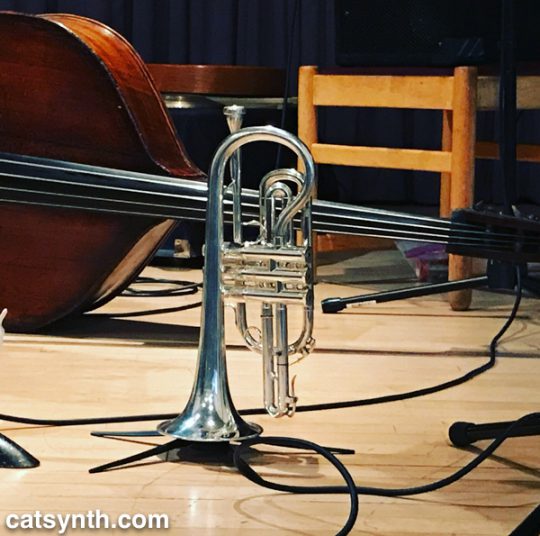 For the final night of the Outsound New Music Summit, we invited two jazz legends to collaborate with noted local musicians. Each of them has performed and recorded with a whos-who of jazz in the late 20th and early 21st centuries.  Sometimes such collaborations can go awry in practice, but we at CatSynth are happy to say that both were a resounding success.
Bobby Bradford has had a long career as cornet player and composer who enjoyed long collaborations with the likes of Ornette Coleman and John Carter.  He has taught multiple generations of musicians, including Bill Noertker, who invited Bradford to lead a project for this year's summit.  The cornetist and bassist teamed up with cornetist Theo Padouvas and bassist Scott Walton to form Bobby Bradford's Brass'n'Bass.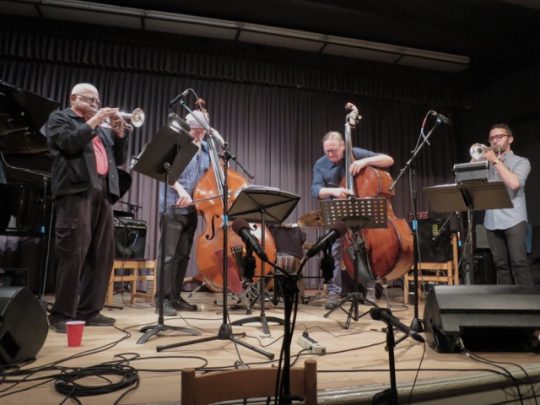 [Photo by Michael Zelner]
The performance focused on Bradford's compositions, but as in any good jazz setting, each of the musicians brought their own creativity to the set.  The instrumentation makes for a sparse texture, with each member of the group having to perform multiple duties on melody, harmony, and rhythm.  But the result is an unusual sound.  Bradford's cornet led the way, with Padouvas filling in some of the space with fast runs and other sounds.  Noertker and Walton took turns on the rhythm at times but also worked together as a unit.  They also doubled as additional melodic instruments in the group.  One memorable moment featured Noertker playing long bowed harmonics atop Walton's back-and-forth plucked bass notes.  There was a ballad with Bradford and Padouvas playing nearly the same line what seemed like a different scale and harmony to the basses, resulting in a very haunting effect.  Another faster tune was reminiscent of Ornette Coleman in the 1960s (i.e., before the Prime Time era).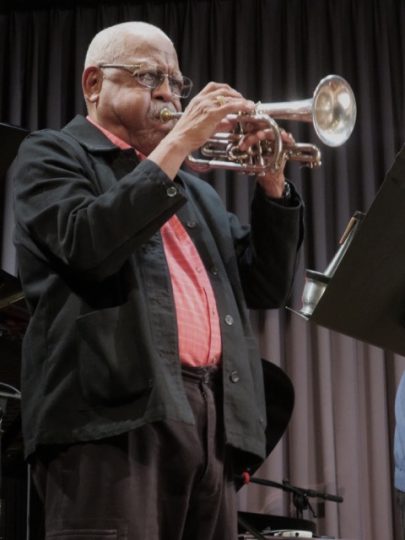 [Photo by Michael Zelner]
As Bradford is perhaps best known as a sideman and a teacher, it was great to see him lead the band with his own music on this occasion. The group did end with a more open improvisation, which Bradford himself admitted he wasn't sure how it was going to turn out.  It was short and sweet, with the musicians bouncing off one another but not overstaying their moments.  Overall, I thought this group had a fine debut, and it will be interesting to see if they play together again, perhaps in Bradford's home turf of Southern California.
The second set brought together pianist Marilyn Crispell with Kevin Robinson's KREation Ensemble that also included Lee Hodel on bass and Tony Gennaro on percussion.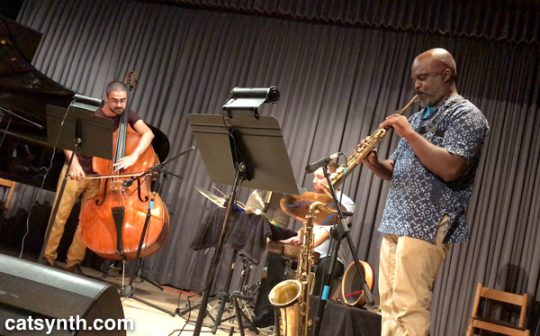 On the surface, this coming together would seem to be a more traditional jazz quartet, but Gennaro had an unusual percussion kit with a variety of hand drums, bells, and more.  Indeed, there were times it seemed all four musicians were playing melody lines.  And there was a lot of open space, with Robinson's meditative poses acting as a fifth instrument.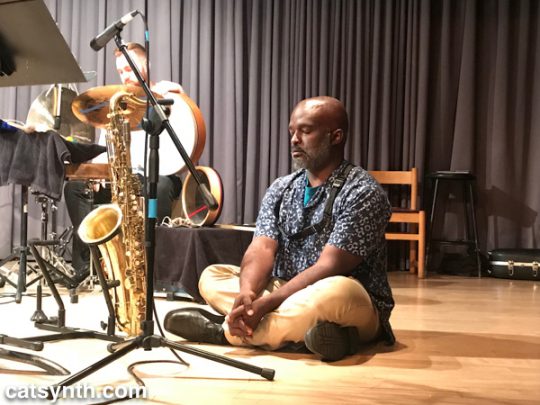 Robinson has a very sparse, detailed and contemplative style of playing, even when he was playing faster sections.  This contrasted with Crispell's frenetic runs on the piano.  Hodel was able to match her with percussive notes on the bass.  I really liked the way the two of them interplayed.  I found myself re-focusing throughout on Crispell to see what she would do next.  There was something clever, even mischievous, about her playing, even when it was darker long chords.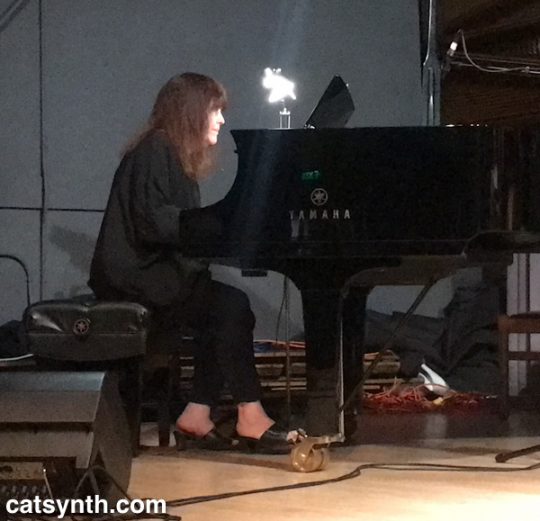 The ever-changing style and energy throughout the set make sense in the context of the work being premiered.  As stated in the program, "Through the Twisting Prisms is a collection of intervallic, rhythmic, harmonic labyrinths and mazes that explore ideas convergence, expansion, contraction, and meditation."
Together, the two sets made a fine conclusion to this year's Outsound Summit.  And we had a full house at the Community Music Center, even in the balcony.  We finish exhausted but satisfied at a job well done and a great week of music brought to life.