It's been a wonderfully musical couple of weeks for us at CatSynth. Two days in the recording studio, our recent performance…and all of this bookended by concerts featuring our musical heroes. Today we visit the first of those concerts featuring Herbie Hancock at the Greek Theater in Berkeley.
Those who have been longtime readers of this site or familiar with some of my recent music will recognize the tremendous influence of Herbie Hancock, especially his Mwandishi and Head Hunters bands of the 1970s. For a concert in 2019, I honestly wasn't sure what to expect. But from the moment the maestro took the stage, I was not disappointed.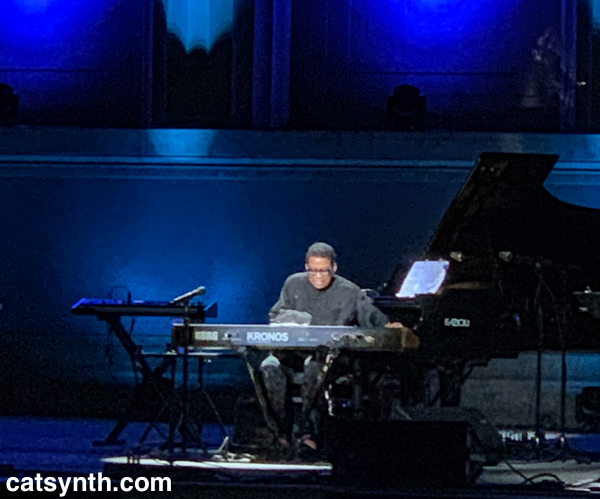 Together with his current band – Vinnie Colaiuta on drums, James Genus on bass, Lionel Loueke on guitar and multi-instrumentalist Terrace Martin on horns and keyboard – he revisited many of the old classics, but with new twists. Some, like Chameleon and Cantelope Island, pretty much followed their classic forms and were a delight. Others, like Butterfly and Sunlight were quoted more subtly or obliquely, teasing us a bit through solos, chord changes, and excursions before landing on the tune's head just long enough of us to recognize it and use it as a point of departure for the next section. This is something that we have heard Wayne Shorter do in his more recent performances as well – just enough of a hint of the original tune for us to notice before departing into new musical territory. It was pretty much everything I would hope for from this concert.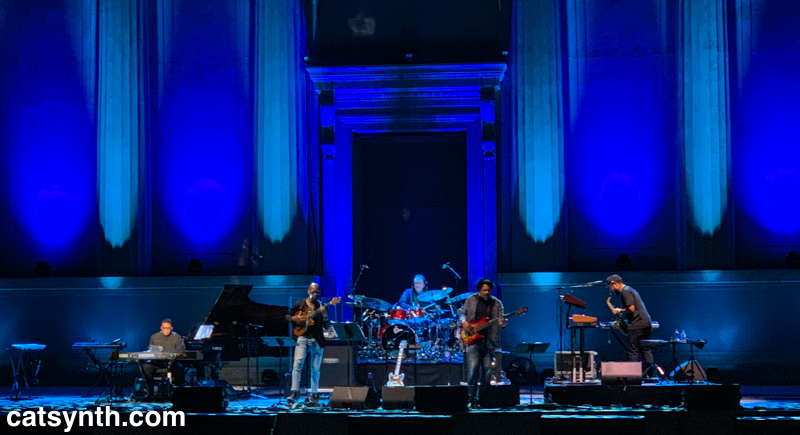 The music that I so love and admire (and try to play) but not as a museum or conservatory piece but as something dynamic and vital. He did a full rendition of Actual Proof, complete with introductory description – this piece is perhaps one of my favorites of his, in part because it is so rhythmically confounding – it is in 4/4 but the way the main riff spreads over bars, it can be hard to tell where the measures begin and end. I also enjoyed how he broke out the keytar and the vocoder from the late 1970s in several songs.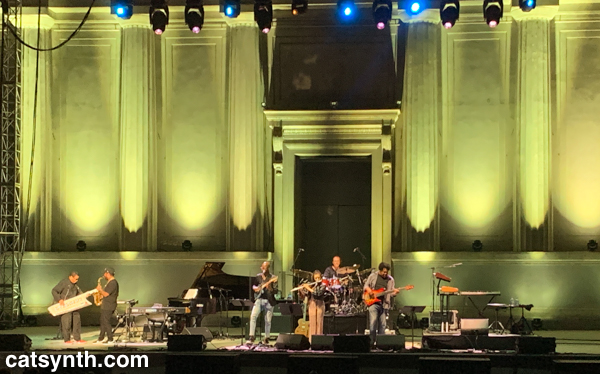 It wasn't all updates on old favorites, as there was newer material as well. And he remains a consummate showman, giving his personal energy back to the crowd. Towards the end of the set, he led all of us in a wave while beaming from ear to ear – this then served as the introduction to a final encore jam of Chameleon where Kamasi Washington and others joined him on stage.
Kamasi Washington's own set was also full of energy and complex music – perhaps a bit overshadowed for me by Herbie, but still a favorite of the crowd many of whom were sporting Washington's t-shirts. He had an interesting band with two drummers (Tony Austin and Ronald Bruner Jr) and Cameron Graves on keyboard/synth. Rounding out the band was Ryan Porter on the trombone, Patrice Quinn on vocals, and Miles Mosley on bass. Perhaps the most touching moment was when Washington's father, Rickey Washington, came out to join the band on soprano saxophone.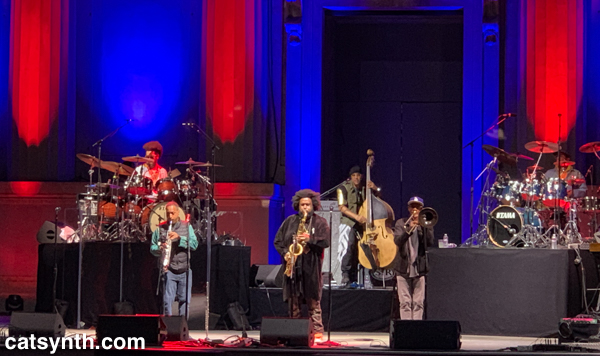 The opening set featured Robert Glasper and his band. A local favorite, his music weaved together elements of jazz with hip-hop. Centered around Glasper on keyboards, his group brought together different elements such as upright bass and turntable.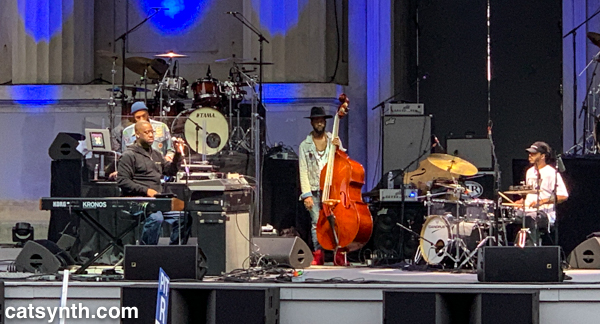 Overall, the show taken as a whole was one of the best live concerts I have seen in a while, which each group building on the foundation set by its predecessor, culminating in Herbie Hancock's musical odyssey (there was, however, no Arp Odyssey this time). Even as an even chill settled into the Greek Theater during his set, I barely noticed. As as I practiced for my own music the coming week, I couldn't help but notice myself doing more of those chromatically rising fast runs that are so characteristic of his solos. It's not copying, but rather influence and tribute – a subject for another article at another time.