On this Veterans Day, we salute some of the cats who have served in their countries armed forces.
First up is Able Seacat Simon,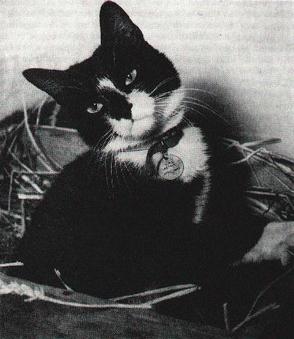 Simon has the distinction of being the only cat awarded the PDSA Dickin Medal after being wounded during a battle on the Yangtze River. From his Wikipedia page:
The badly wounded cat crawled on deck, and was rushed to the medical bay, where the ship's surviving medical staff cleaned his burns, and removed four pieces of shrapnel, but he was not expected to last the night. He managed to survive, however, and after a period of recovery, returned to his former duties in spite of the indifference he faced from the new captain Lieutenant Commander John Kerans. While anchored in the river, the ship had become overrun with rats, and Simon took on the task of removing them with vigour, as well as raising the morale of the sailors.
When Simon died in 1949 he was buried with full military honors and lies in PDSA Animal Cemetery in Ilford.
Cats in the military have most often been ship cats, who have perform the practical function of ridding the ships of rodents and other potential pests, as well as boosting the crew's morale. You can find many examples in this post from the Naval History Blog.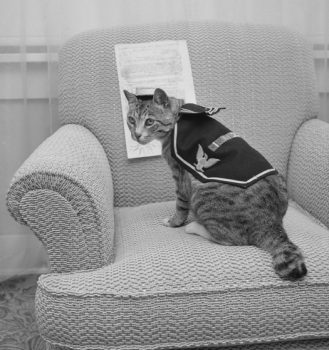 Cats have also served on land. Pfc Hammer served with an Army unit in Iraq in 2004.
The cat, dubbed Pfc. Hammer, experienced the war right alongside the soldiers. He jumped at the sound of nearby gunfire and unexpected explosions when they did. He would always take the soldiers' minds off of the war at just the right time.


During a mortar attack on the unit Hammer ran to the bunker with everyone else. The nearest soldier picked up the cat and tucked the feline inside his body armor for safe keeping until the attack was over.

http://petslady.com/articles/hammer_time_cat_iraq_62910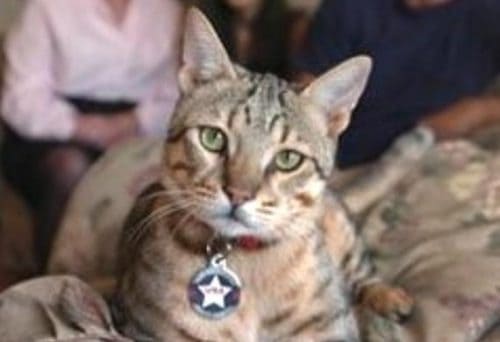 In the true spirit of "no soldier left behind", the unit made sure that Hammer was able to come back to the U.S. with them. With the help of Alley Cat Allies and Military Mascots, he was relocated stateside and no lives with fellow veteran Staff Sgt. Rick Bousfield and his family.
If you have stories of cats who have served in war, we would love to hear from you in the comments below.