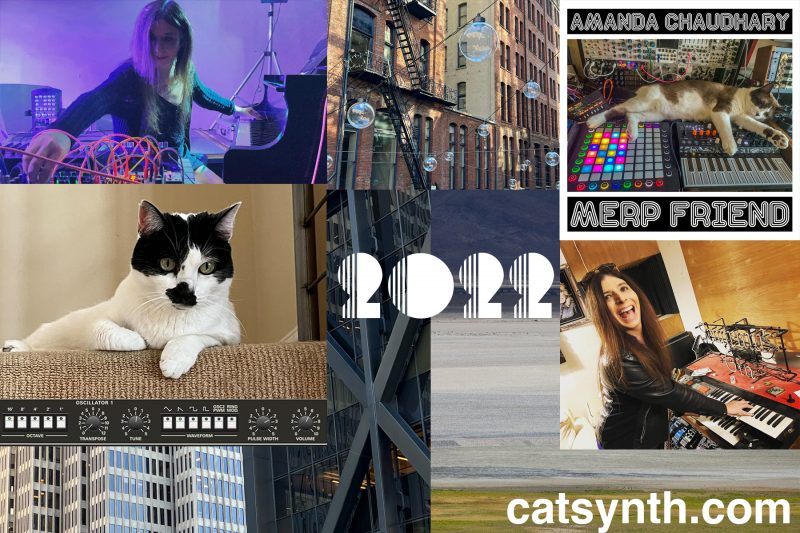 It's that time when we at CatSynth post our traditional end-of-year image, along with a few stats and thoughts on the year that is coming to an end. It was a bit harder to settle on a set of images to represent this year given how much has happened. First, a few quick stats.
On the blog:
207 posts
142 "cat-and-synth" posts
On CatSynth TV
61 new videos
Most watched video made in 2022: Klaus Schulze: A tribute to his music and legacy
Second-most watched made in 2022: The Logistic Map: Attractors, Bifurcation, and Chaos (Part 1 of 2)
Although there were fewer videos produced this year, there were some ambitious ones, like the two "Red Robot Show" videos. We emphasized quality over quantity.
Compared to the previous two years, 2022 was active and busy. Even a bit chaotic and over-committed at times. Perhaps this is a form of "return to normalcy" after the deepest parts of the pandemic. We did continue the new tradition from last year of releasing at least one EP or album by the end of the year – I am quite proud of the way Merp Friend came out. I also traveled farther and more frequently than in previous years, reconnected in person with more friends, and will be off to visit New York at the start 2023 for the first time in 3 years (the longest I've ever been away in my lifetime).
For this coming year, I already have a new album in the works and lots of ideas for the video channel. I would like to see CatSynth TV grow – and this website could use some serious updates. The challenge is sustainability between music, videos, my personal life, and my "day job". Finding that balance has been at a time challenging this past year, and continuing to develop my new organization and meditation techniques will play a part. And I of course look forward to spending as much time with my cat family – Sam Sam and Big Merp – as I have these past two years. Working from home has truly been a blessing that came out of the challenges since 2020. As my good friend G Calvin Weston says, forward motion.
Wishing you all the best for 2023 – and we'll keep doing what we do.