What do you see in this picture?
Well, since it is Weekend Cat Blogging, one would expect to see a cat. And indeed there is a wild cat sleeping well camouflaged amongst the rocks. This is Pallas' Cat, native to the high-altitude grasslands of Central Asia including Mongolia, western China, and parts of Russia and Afghanistan.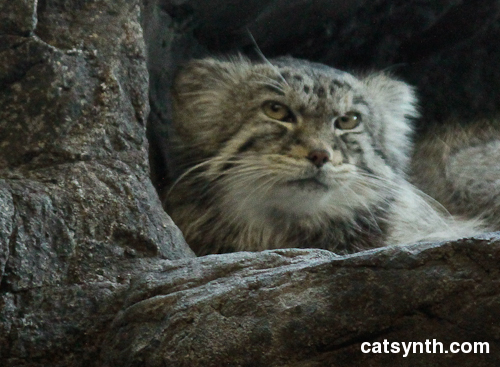 This particular individual was not in Central Asia, but rather at the zoo in Prospect Park in Brooklyn.
Pallas' cat has a nice thick fur coat and, unlike the writer of this article, is well suited to colder climates.
They are similar in size to larger domestic cats, and of course have many of the same characteristics. They hunt, tend to be solitary, and spend a decent amount of time sleeping. But despite the similar appearance, there is a lot of question about how closely they are related to other cats. They are currently not part of the genus Felis with domestic cats and related wild cats, but part of the separate Otocolobus (though this is subject to discussion).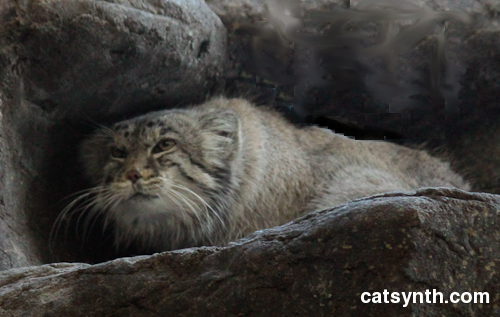 Pallas' Cat is not on the endangered list at this time, but is listed as "near threatened" primarily due to habitat loss and illicit hunting and trade (one can only imagine that an animal with such a fur coat could be easily threatened by illegal hunting). There are efforts underway to help preserve these cats in their native territories, including programs in Russia and Mongolia. Follow the links for information on these efforts.
For more general information on Pallas' cats and their current status, visit the Feline Conversation Federation (FCF) and our friends at the International Society for Endangered Cats (ISEC)