Sam Sam has her usual spots, but sometimes she sits down in unexpected places.  For example, yesterday she entered "kitty loaf" mode in front of an overflow shelf just outside the studio that continued several old E-MU modules.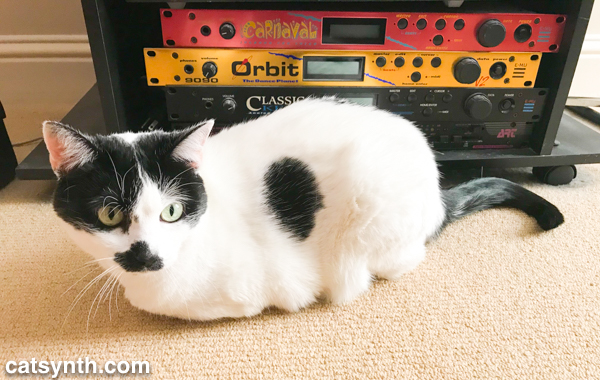 The E-MU Orbit, Carnival and Classic Keys are all variants of the first generation Proteus.  The Orbit, in particular, was iconic in its time, but all rather obsolete now.  I do still use my Proteus 2000 module (a Vintage Pro with Mo'Phatt and Beat Garden expansion ROMS) quite often – you never know when you might need a few lines of Mellotron flute or strings or a classic highly-filter-swept drum loop.  There are other ways to get these musical elements, but the P2K remains quick and accessible.  The Morpheus also still has a place of honor in the studio.

Both of these later-generation E-MU instruments had more to offer, especially the z-plane filters that the Morpheus took to the extreme.  These days, I do find myself experimenting with the Morpheus Eurorack module from Rossum Electro-Music more than the old E-MU box, which is just the z-plane filter with CV-controlled parameters.  Even after using it extensively in recent shows, I still have a lot to learn and practice with it.
When we're not up in the studio, Sam Sam enjoys spending time on the living room rug and perfecting her patented "scratch-and-roll" move.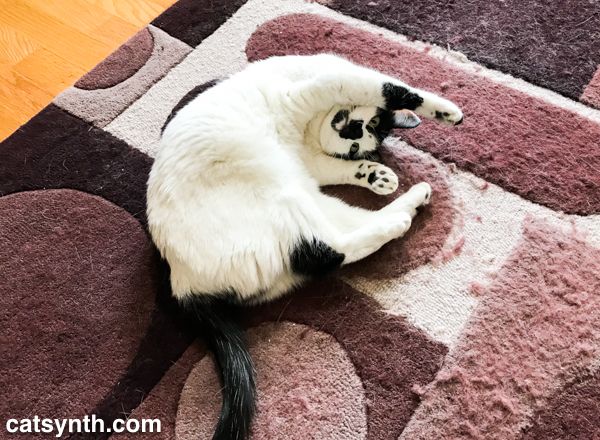 I have too many photos of her in this pose now, it's just hard to resist.  Of course, what she wants is not a photo, but pets and then brushing.  I am more than happy to oblige.