Musical innovation can arise from pushing the boundaries of traditional musical instruments or inventing entirely new instruments.  The opening concert of the 2018 Outsound New Music Summit featured two groups whose work falls squarely in the latter category.
Tim Thompson is a longtime innovator in the space of expressive control of music using custom hardware and software.  His latest creation is the Space Palette Pro, a panel with four highly sensitive touchpads that control sound and visuals via MIDI.  You can hear Tim's explanation of his invention in this video:
The Space Palette Pro is an evolutionary step from the original Space Palette, which allowed users to move their hands through holes in a large panel to drive music and visuals via a Kinect motion sensor.  The newer incarnation is smaller in size and replaces the space with pads, but in many ways uses the same principles of three-dimension gestural control.  Indeed, much of the software from the original was repurposed for the new version.  But the Pro is definitely more of a performance instrument, rather than a "casual instrument", as Thompson explained both in the video and at the concert.
Musically, his performance was a series of several movements that segued from one to the next.  Each had its own sonic and visual palette which Thompson performed in real time.  So in a sense, this was an improvised performance, but one that was constrained by the sound, visuals, and patterns in each section.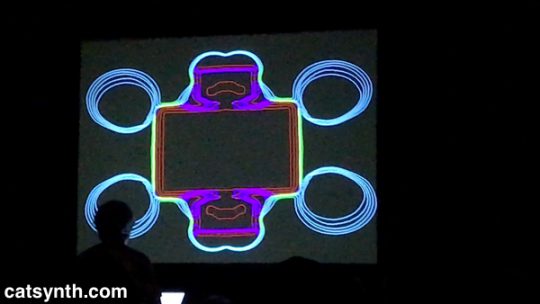 The first section was soft with spare graphics, while the second was more pointed and percussive with geometric shapes.  Further movements featured lush timbres and graphics, and popular-music idioms with synthesizers and electronic drums.  Many of the segments were "quantized" to fixed scales and harmonies (as well as rhythms), though Thompson could introduce new pitches and scales into the mix using a MIDI keyboard, along for more melodic and harmonic variety.
The focus during the performance was squarely on the screen and the live visuals.  These were beautiful and captivating.  I would have liked to be able to see more of the performer and the instrument as well, as it was for me an important part of the set.
The second set brought us (mostly) out of the electronic world and back into the realm of acoustic musical instruments, albeit instruments of unique design.  Pet the Tiger is a Bay Area collective of musical instrument inventors.  Their recent work has centered around a set of instruments that use strict harmonic-series tuning.  Together the instruments and musicians comprise a "harmonic-series gamelan."  You can see a demonstration of some of their instruments in this video.
The music is anchored by the harmonic compass, a set of metallophones designed and built by Stephen Parris and commissioned by group director David Samas.  However, there were a wide variety of instruments, including string and wind instruments by Bart Hopkin and Peter Whitehead, and even a series of meticulously tuned loose plastic tubes.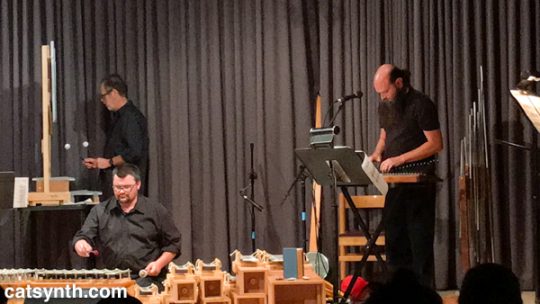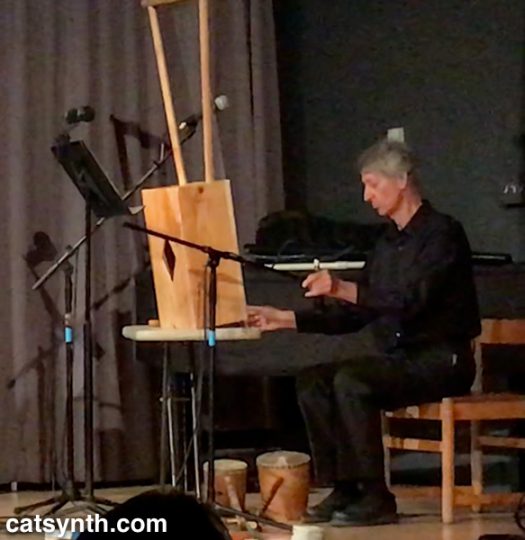 For this concert, the ensemble performed an interpretation of the fairies' subplot of A Midsummer Night's Dream, which includes many of the plays most memorable lines (including Puck's final soliloquy).  The text was subdivided into several songs, and they were indeed songs with melody and harmony, albeit in the slightly alien world of the harmonic series, which can be simultaneously soothing and anticipatory at the same time – it always feels like it is waiting to go to the next note.  The songs were in a variety of styles and alternately song by Samas, Hopkin, and Whitehead.  The instruments and their playing gets most of the attention, but I think the singing deserves praise as well.  All three have great singing voices, and working in an alternate tuning is no small feat.  I was particularly impressed with Bart Hopkin's return to his songwriting roots, singing against a harmonically tuned guitar of his own making. And David Samas' voice is always rich and sonorous.  I have known this group and its members for several years now, and I have watched not only the instruments grow in precision and sophistication, but also musicianship in putting together an entire performance like this.  The audience were very clear in their appreciation and approval as well.
In all, it was a beautiful night of music and instrumental innovation.  We conclude with an exchange that occurred during the pre-show question-and-answer session when Outsound director Rent Romus asked the performers "why bother with the complexity of creating entirely new instruments?"  I found Bart Hopkin's answer quite memorable.
There are a lot of reasons to stick with conventional instruments. You could write a pretty convincing paper on why to stick with convention instruments including ones you might not normally think of…When you work with conventional instruments and you write for it, you can simply hand someone the score because there are trained musicians who can keep one eye on the score, one eye on the conductor, and "another eye" playing the instrument. They don't have to look at their hands. There are a million advantages you wouldn't even think of to working with conventional instruments.  BUT, you know, with unconventional instruments you find musical territory you probably wouldn't have found otherwise.  And that really makes it worthwhile.
We at CatSynth agree and look forward to more unconventional musical territory in the future.