It's time for another round of catch-up on recent musical adventures around the Bay Area.  And so today we look back at last month's performance by Rent Romus' Life's Blood Ensemble at the Ivy Room in Albany, California, where the celebrated the release of their new album Rogue Star.  It was the subject of a recent episode of CatSynth TV.
As Romus explained on stage (and in our video), Rogue Star is a deliberate reference and homage to David Bowie's final masterpiece Black Star.  In particular, it is inspired by the work of saxophonist Donnie McCaslin (Romus' brother-in-law) on Black Star.  Indeed, the title track of the new album as performed that night did reference the style and material of McCaslin's work.  But this was a point of departure, and the ensemble moved in different directions as they performed other tracks from the new album.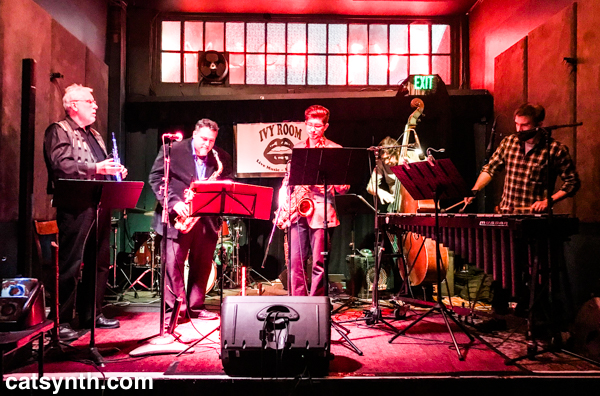 Several of the band members contributed compositions to the album and to the performance that evening, including "Think!" by Heikki Koskinen (e-trumpet) and "Space is Expanding" by Safa Shokrai.  Shokrai's piece picked up on the theme of space and cosmos that winds through many of Life's Blood Ensemble pieces as well as through Romus' other projects.  Koskinen's composition offered frenetic ensemble runs punctuated by silences and small staccato hits from his e-trumpet as well as other instruments.
Rounding out the ensemble were Mark Clifford on vibraphone, Timothy Orr on drums, and Joshua Marshall on tenor saxophone.  As always, I was impressed at the way the ensemble functioned as a unit, whether in the middle of a swinging "cool jazz" idiom or more seemingly free and chaotic sections.  In some ways, it is in the silences between phrases where this is most apparent.
Before closing, I should also say something about the Ivy Room.  This venerable institution has gone through multiple incarnations in the ten years since I moved to San Francisco and started playing and attending shows there.  Of course, I had a lot of fun performing at "Hootenannies" back in 2008, 2009 and 2010, and enjoyed the kitschy decor.   But from a musical point of view – and especially a jazz-ensemble point of view – this current incarnation is the best, with a sizable stage, lighting and sound reinforcement.  I hope to bring my current band there sometime soon.