Even as Septembers and Octobers go in San Francisco, this one has been crazy, careening between rehearsals and performances for various projects, growing in a new job, and dreading whatever new political development occurs.  So our recent outing to hear SF Symphony perform the music of Igor Stravinsky was a bit of a respite.  It was part of a two week-festival celebrating the music of Stravinsky that included not only the "big three" (The Firebird, Petrushka, and The Rite of Spring) but other less-frequently performed works.  We were there for the night featuring The Firebird and enjoyed the bar's special Firebird martini in celebration.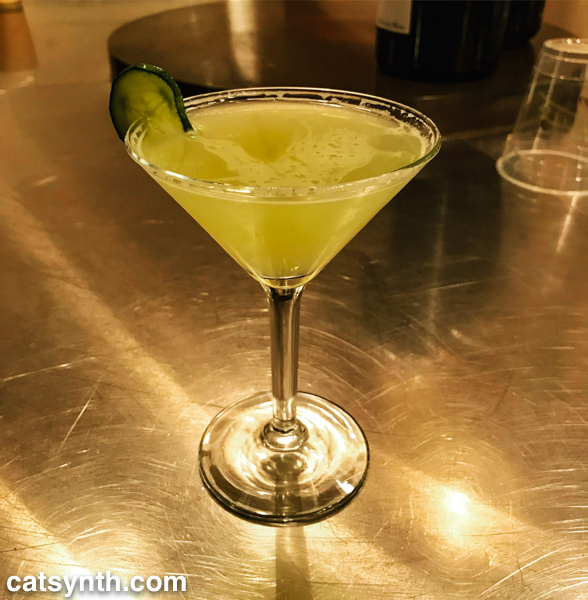 The Firebird, the first the "big three," premiered in 1910 and while was considered avant-garde by some in Paris, it's a very accessible work that draws more from 19th-century romanticism than from the innovations of the time.  For us at CatSynth, this is about as conservative as our live music gets.  But it is nonetheless an adventurous piece and very richly textured, especially in its focus on brass and wind instruments.  As it was performed without staging, it was easier to concentrate entirely on the music.  The early "Prince Ivan" sections had phrases and idioms that foreshadowed L'Histoire du soldat (The Soldier's Tale); then there is that iconic ending with the slow big chords.
If anything, it was the opening performance of Perséphone that was more unique an exciting.  It far less often that Stravinsky's other large-scale works, and it is complex to stage.  For this performance, the symphony under Michael Tilson Thomas was joined by the great Leslie Caron as the narrator and Persephone, Nicholas Phan on tenor as Eumolpus and other characters, as well as San Francisco Symphony Chorus, San Francisco Girls Chorus, and the Pacific Boychoir.
Despite the massive number of performers between the orchestra and the choruses, Perséphone has a sparse and more minimal texture than The Firebird or the other big ballets.  It also has a very deliberate and punctuated quality, with each note and each syllable of the text standing alone.  It does have a joyous, lyrical quality at times – it is a celebration of spring.  But it also has dark, unsettling moments, which is keeping with the mythological story of Persephone, the spring goddess and daughter of Ceres being brought to Hades by Pluto.  The story is one of balance between light and dark, and between the seasons.  But the text in this version is somewhat more ambiguous, emphasizing Persephone's descending to Hades by choice.  It does also celebrate her worldly existence as the bride of Triptolemus and joy of rebirth, and of course the springtime.  Musically we are treated to a light touch without leaning too heavily on major/minor emotional tropes, much as the story projects its ambiguity between light and dark.  The winds, and piccolos, in particular, were prominent. And as stated above the space within the music leaves ample time to consider each note and word.  It was a quietly but powerfully dynamic performance; and orchestra, soloists and chorus were treated to many well-deserved rounds of applause.
It was our first trip back to the Symphony in a while, as their 2017 program was far more conservative and focused on traditional repertoire compared the numerous shows we had enjoyed in 2016.  We do look forward to more adventurous and contemporary programming again soon.