A week ago, I found myself back in Portland for the first time in four years.  Officially, I was there to headline the Volt Divers Cat-tastic Edition show, but geat many other experiences large and small framed the main event.  There were synths, cats, food, drink, and rain.  Lots of cold rain.  And wind.  This is not unusual, but it did limit outdoor activities such as industrial and architectural photography.  Instead, we enjoyed some of Portlanders' favorite indoor activities, starting with brunch.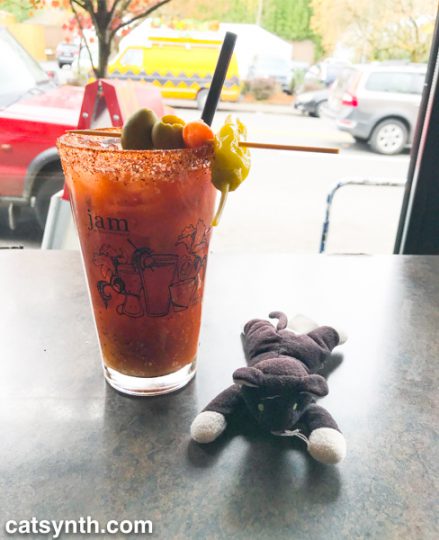 Portland may be an even "brunchier" place than San Francisco, Oakland, or Brooklyn, judging by the lines I observed at popular spots, including Jam on Hawthorne, not far from my home base in Southeast.  Fortunately, as a solo patron who doesn't mind squeezing into a tight spot at the bar, I didn't have long to wait to get served.  I quite enjoyed the spicy bloody-mary variant with Jam's proprietary "aardvark sauce", as well as the rancheros.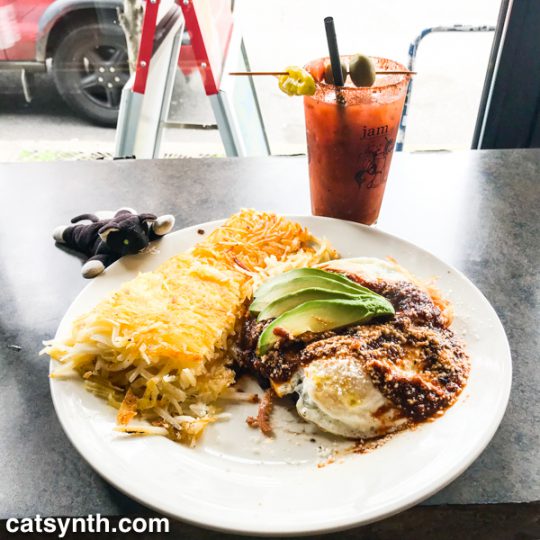 The sharper cheese sprinkled on top gave the dish an almost Italian quality, but it retained the hearty beans, spicy sauce, and simple eggs that made it perfect for a cold morning.  The view out to Hawthorne Boulevard displayed some of the local flavors, including that Charlie-Brown-inspired van in the first photo.
Then it was back to our temporary "CatSynth HQ" to relax for a bit.  Buddha, one of my hosts, made sure I felt at home.  He was rather friendly, and even demanding of attention.  I was happy to oblige.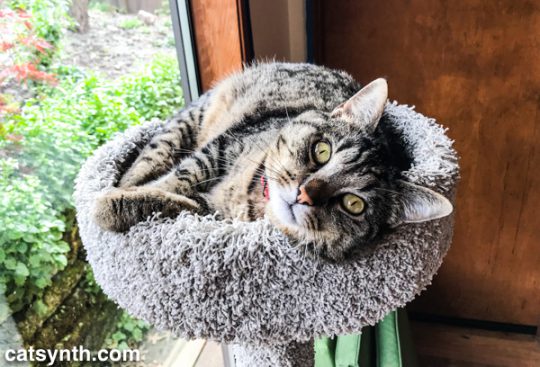 After some quality cat time, it was back out to Hawthorne, this time headed over the bridge to downtown.  Downtown Portland is somewhere between the downtown sections of Oakland and Brooklyn in terms of cityscape and vibe, though on a smaller scale than the latter.  It has a regular grid cut by the I-405 freeway and Burnside Street, and a mix of contemporary, mid-century and older buildings.  It was at the base of one of the older buildings that I found a small hair salon that was able to fit me in for a last-minute blowout – the weather was not kind to my hair, and I needed to look purrfect for the show that evening.

The next stop took me eastward from downtown to the ragged edges of the city along SE 82nd Avenue (State Route 213).  I was here to pick up a borrowed Nord for the show.  A mixture of auto-shops, low-rise apartments, and shopping centers made this area feel more like Los Angeles (except for the weather) or the far eastern sections of Queens.  But it was still fascinating in its way, and there was an interesting row of shops, bars, and eateries along Stark Street – I wish I had a chance to stop at The Country Cat, but time did not permit this.
With hair done and keyboard secured, it was time to prepare for the show, which back in the industrial section of Southeast along the river at The Lovecraft Bar.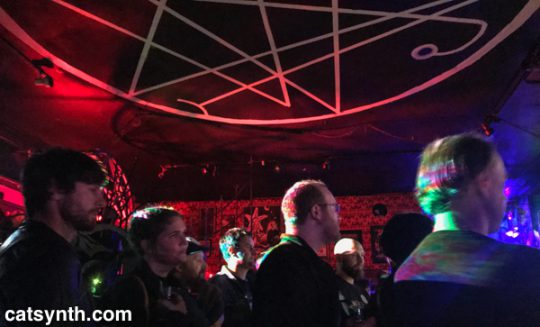 Inside the bar, it was dark.  Really dark.  It took me a few minutes before my eyes adjusted and I could see everyone else busily setting up their mostly modular rigs.  It was all business after that as I set up for the show, but I did have some moments to check out the Lovecraft and horror-themed decor.
I will be covering the show itself in detail in a subsequent article.  But we already have a video published on CatSynth TV, which you can view below.
The next morning I found myself in the Hollywood neighborhood.  It was actually the first time on this particular trip that I found myself north of Burnside in the northeast sector of the city.  Sandy Boulevard was lined with a diverse collection of low-rise businesses.  I crossed I-84/US 30 into the adjacent Grant Park district, which reminded me again of residential neighborhoods with larger lots at the edges of New York City into Westchester and Long Island.  I had some personal appointments that morning but then remained in Northeast to visit House of Dreams cat shelter at their secure undisclosed location.
House of Dreams is a no-kill shelter specializes in cats that have difficulty finding homes and has space dedicated for FelV-positive cats (i.e., those with feline leukemia).   Our show the night before raised funds for their shelter and work, and I of course wanted to come visit the kitties.  We will dedicate an upcoming article and video entirely to House of Dreams, but for now here is a cute picture of Flicka, one of the many sweet cats I met there.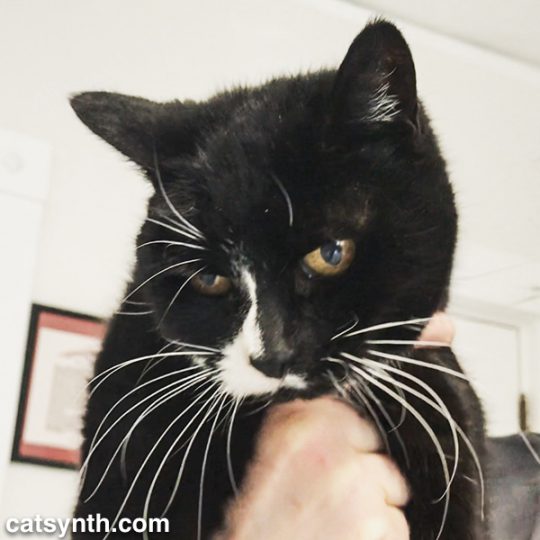 We then hopped onto I-84 back west towards the river, passing the convention center and on to Mississippi Street, a trendy area of boutiques, pubs, and restaurants.  This is also the home of Control Voltage, a premier shop for synthesizers of all sorts.  It was relatively easy to find with the sidewalk signage.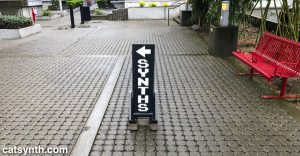 Among the many keyboard and modular displays was this rack featuring modules from FolkTek, one of several local makers in the Portland area.  They do have a gorgeous design.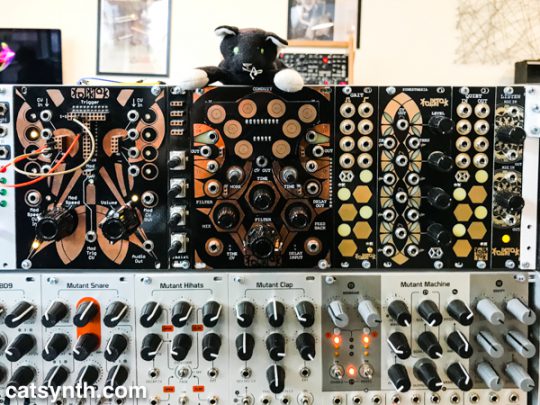 I chatted with the staff and shot some video for an upcoming CatSynth TV, but also walked away with one of the FolkTek modules, a quad envelope follower that I know will come in handy for some upcoming music projects.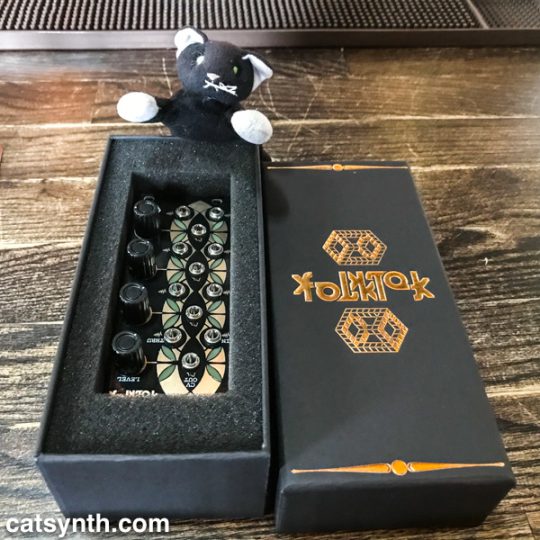 I wandered a few blocks south on Mississippi to StormBreaker Brewing, which I had remembered from a previous trip. In addition to their beer offerings, they had several suggested beer-and-whiskey pairings, which I of course had to try.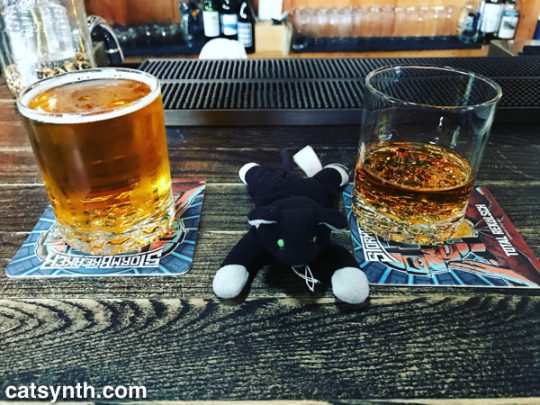 One of the daily specials, a cream-of-asparagus soup, was perfect for that cold and rainy afternoon.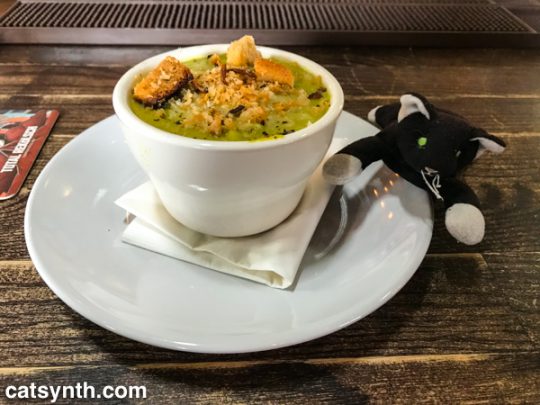 Although this trip took me to quite a few corners of the city, I still felt there was much undone, especially meeting more of the local synth community, and spending some time outdoors.  So I do expect to be back much sooner than last time.
See more of Portland, Oregon and many other fascinating places in our Highway☆ app, available on the Apple App Store and Google Play Store.