It's been 11 years since we started CatSynth on a bit of a lark, and since then it has grown into something that we treasure, and quite seriously. But not too seriously. As always, we mark the annual milestone with a few stats.
3210 Posts
14358 Comments
4.47 Comments Per Post
1202 Cat-and-synth pics
474 Reviews and related posts
Comments and interaction on the blog has continued to decline (from an average of 4.7 to 4.47 comments per post). This is not surprising as interaction has largely moved to social media platforms.
Our most visited post this last year was our Sad Farewell to Luna, both on the blog itself and on social media. This, too, is not surprising, and we continue to be very grateful for the outpouring of emotional support we have received.
Other individual posts that were widely read and shared including our explainer on Lake Oroville, our review of James Chance and the Contortions in San Francisco, and of course our annual NAMM coverage.
Every year we share the photo that started it all on July 19, 2006. It featured Luna in the beanbag chair along with a Novation keyboard. We feel its still appropriate for this day.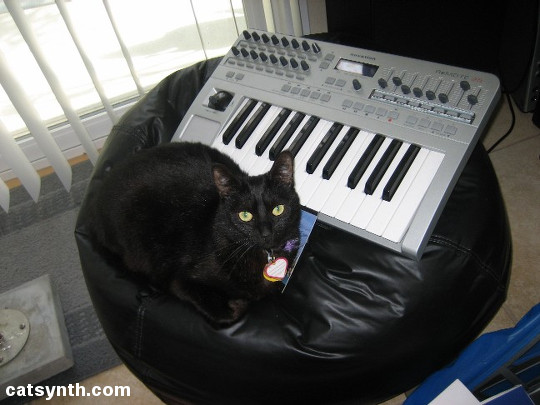 We continue to grieve for Luna, but we also welcome Sam Sam who we hope with be with us and featured on these pages for years to come.