We are just a few weeks away from the 2018 Outsound New Music Summit!  And as always, we kick off the countdown with the annual benefit dinner featuring live creative music by local artists.  This year we were pleased to have Actual Trio perform.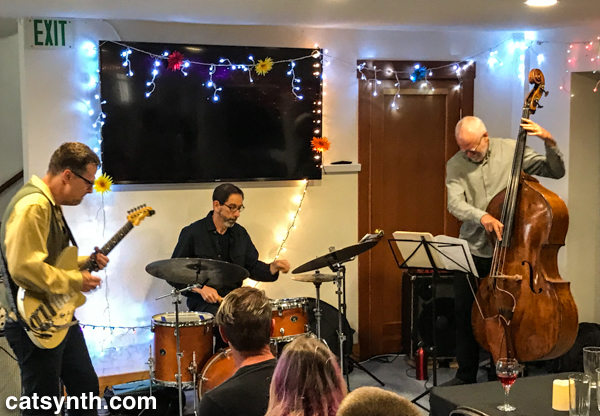 Actual Trio is led by composer and virtuoso guitarist John Schott and features John Hanes on drums and Dan Seamans on upright bass.  To simply label them as a "contemporary jazz trio" would be a disservice to all three musicians, who bring a wide range of compositional and performance experiences to this group.  Their music ranges from laid-back grooves to fast frenetic runs to sparse percussive punctuated passages.  Overall, they delivered a highly dynamic performance that was well received by all in attendance.  You can hear a bit of it in our recent CatSynth TV video.
As Schott states in the video, there is something special about the trio format.  Trios are three-legged stools which depend on the contributions of each member and their ability to listen and perform together.  But it is still relatively sparse and spare compared to larger ensembles.  Actual Trio has a very small toolset of drums, bass and guitar (although Schott brought quite a few bits of vintage and modern electronics along as well).  But they get a lot out of what they have.  Schott and Hanes function together as a rhythmic and melodic unit, and they seemed to be able to finish each others lines, whether fast runs or vamps.  Seamans brought a melodic sensibility to his bass performance even while providing a solid foundation for the music.  And they were just fun to watch and listen to.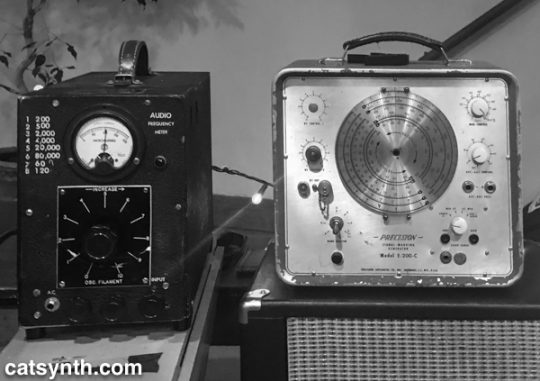 [Vintage amp and spring reverb units used by John Schott]
The Outsound Benefit Dinner is a "thank you" of sorts to our core supporters in the community – an instance of the time-honored tradition of plying supporters and donors with food, drink and entertainment.   All in attendance enjoyed the performance by Actual Trio and the food provided by Slippery Fish Catering.  But this year, Outsound owes an even greater debt of gratitude to its individual donors and supporters as grants for small arts and music groups becomes even harder to come by than it has in the past.  But we are looking forward to another excellent summit this year.  Please visit the website for tickets and to find out more about the shows, which take place at the Community Music Center in San Francisco from July 22 through July 28, 2018.