Today we look back at the December show at the Starline Social Club featuring the Fred Frith Trio, IMA, and Watkins / Peacock. It was the subject of a recent episode of CatSynth TV.
In addition to giving a great interview, Zachary Watkins performed a great set with collaborator Ross Peacock, featuring a large array of electronic gear, with interesting rhythms, harmonies, and timbres throughout. The largely improvised set included several patterns and patches from Watkins as well as solo work by Peacock on a vintage Korg MS-20.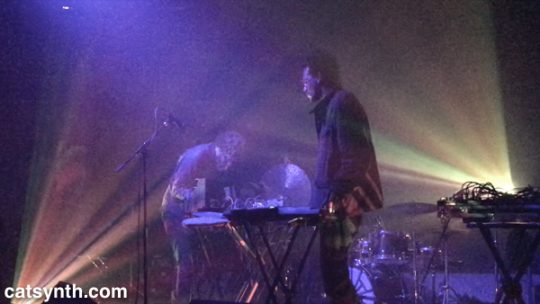 IMA, the duo of Nava Dunkelman and Jeanie Aprille Tang (aka Amma Ateria) provided a very different sound and style combining percussion and electronics.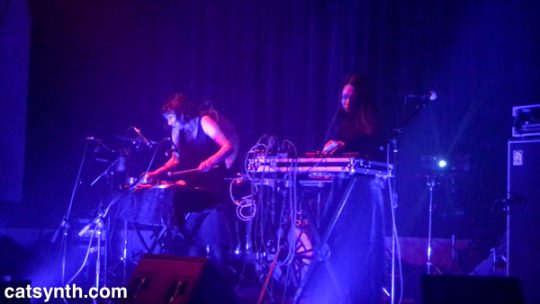 The timbres of Nava Dunkelman's percussion and Tang's electronics complement each other, with the electronics weaving between the frequency ranges and timbres of the percussion. This worked especially well with the metallic sounds. Having played together as a unit for a while now, IMA's improvised sounds have a tight structure and narrative quality.
Then it was time for the Fred Frith Trio to take the stage. In addition to Frith, the trio features Jason Hoopes on bass and Jordan Glenn on drums.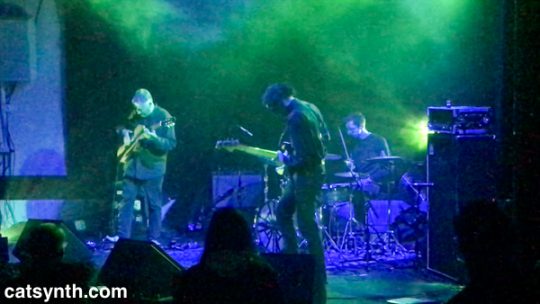 Like IMA, the trio locked in even in more free-form improvised sections to maintain a rhythmic and virtuosic quality. They have developed a musical language among the three of them that allows them to converse and also listen during "monologues", like Frith's solos or Hoopes' dramatic bass patterns.
We had a great time at this show – the Starline is a good place to see live music. The stage lighting was almost a performer in its own right, constantly changing and adapting to the music. The fog could have been a bit lighter, though.