Our first music report of the year features the final show we saw in 2017. Scott Amendola assembled a cast of seasoned improvisers for a concert at Slim's in San Francisco that took us on quite a journey over two full-length sets. It was the subject of our last CatSynth TV.
As one can hear in the video, there were a variety of textures throughout the two sets. My favorites were the forceful rhythmic sections, some of which came at the very start of the performance. There were also quite a few "operatic" segments that featured the voice of Pamela Z, who was also manipulating samples through various electronic processes. Aurora Josephson's vocals provided a counterpoint with different timbres and style.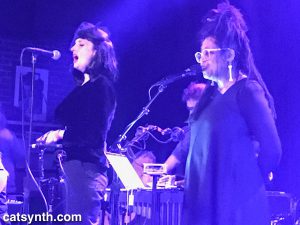 The ensemble includes three electric guitars (Henry Kaiser, John Schott, and Fred Frith) and three percussionists (Jordan Glenn, Robert Lopez, William Winant). As we have often remarked, doubling and tripling of such powerful instruments can be treacherous, especially in an improvised setting. But it worked here, as everyone had a distinct sound, and the good sense to always listen and lay out when appropriate. In fact, to my ears the music, especially during the more operatic less rhythmic sections, was dominated by the concert string section, consisting of Christina Stanley and Alisa Rose on violin, Crystal Pascucci on cello, Zach Ostroff on string bass, and Soo-Yeon Lyuh on haegeum. At various points, Mark Clifford cut through the harmonies and timbres on the ensemble with frenetic solos on vibraphone.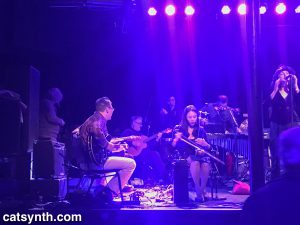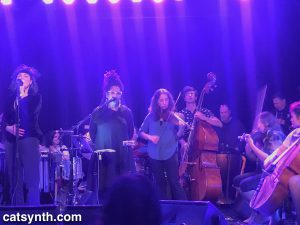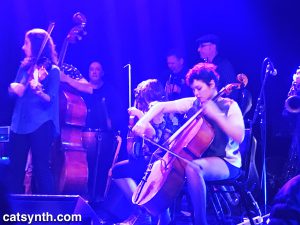 The ensemble was rounded out with the wind section, which included the entire Rova Saxophone Quartet: Bruce Ackley, Larry Ochs, Steve Adams, and Jon Raskin. I felt like I didn't hear as much of a distinct voice from the saxophones as I did from the other sections, but that was perhaps because they blended with the violins and cello.
In all, it was a fine night of music to wrap up the year. As we often do at Slim's, we enjoyed the concert from the balcony over dinner and drinks, but we also had the chance to mingle with our many friends in the ensemble and the audience. We look forward to more music from everyone in their own projects in 2018.