Last Thursday we at CatSynth returned to the Octopus Literary Salon in Oakland to hear two groups whose work we follow, Grex and Two Aerials.  The show was also the subject of our most recent CatSynth TV video, which can you see below.
There are similarities between in terms of style and songcraft, and they worked well in tandem.  Two Aerials, led by Mark Clifford (vibraphone) and Crystal Pascucci (cello, voice), had a jazzier vibe and more reminiscent of art-rock and prog of the early 1970s.  Clifford's frenetic but luscious vibes are a lot of the reason for this, but solid backing from Brett Carson on keyboard and Jordan Glenn on drums added to the overall sound and structure.  There were sounds and textures reminiscent of Henry Cow, especially during the songs that featured Pascucci on voice.  There were also sections that reminded me of Frank Zappa's best lineups from the early to mid-1970s.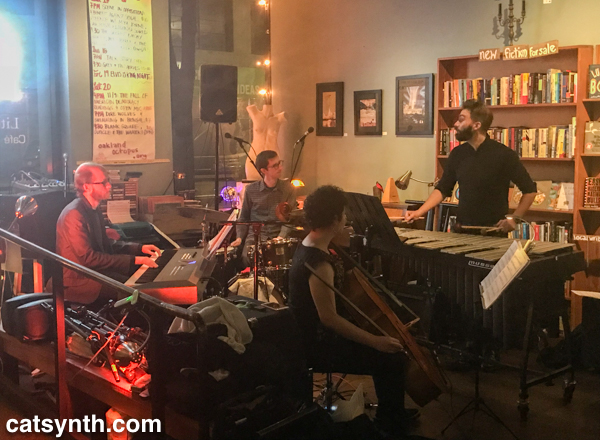 Grex has gone through a few iterations of style and personnel in the time I have known them.  The current incarnation features principals Karl Evangelista on guitar and Rei Scampavia on keyboards, but they each take on additional musical duties with electronics, foot-driven percussion, and voice.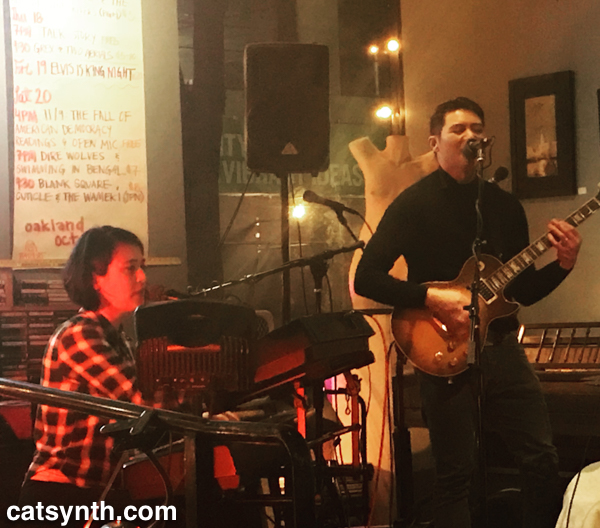 Musically, they also have a style that falls somewhere in the realm of art rock, but with a dreamier, more psychedelic feel.  They move effortlessly back and forth between very tender lyrical songs and frenetic pedal-heavy guitar solos from Evangelista, as well as space in between those poles.  We particularly enjoyed the quote of Princess Leia's theme during their final song.
In all, it was a fun evening with friends and music.  And the Octopus Literary Salon is fast becoming a frequent destination for us for eclectic and intimate musical performances.  We look forward to more.