A few years ago, I traveled California's Highway 41 on my 41st birthday. I had hoped to make this a regular tradition, but various circumstances have kept me from following through, until this year, when I drove the southern half of California Highway 45.  It wasn't exactly on my birthday, and I didn't complete the route, but was still a fun and eccentric way to celebrate the conclusion of my 45th year of life.  It was also a good excuse to try out the new travel-mapping feature in our Highway☆ mobile app.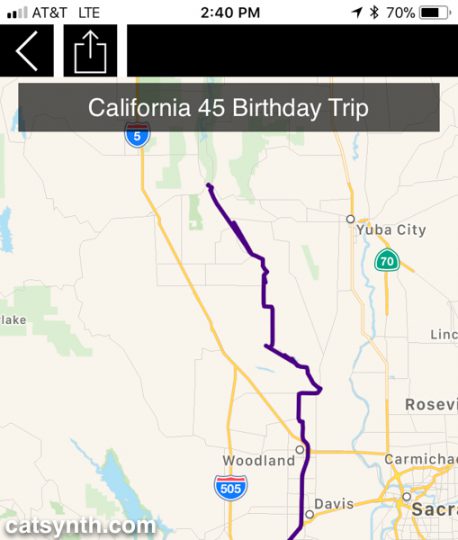 Highway 45 begins in the small town of Knight's Landing in Yolo County, so I first had to schlep up there via Interstate 80 and then turn north on Highway 113 near U.C. Davis.  113 is a major freeway at this point, but a bit further north it narrows to a two-lane country road before reaching the junction with 45.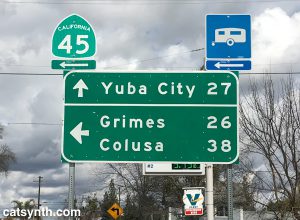 Knight's Landing was actually a very small but cute town along the Sacramento River. Before embarking on the formal part of the trip, I stopped along the levee at Front Street to view the continuation of Highway 113 across the river.  Front Street was rather beaten up compared to the rest of the town center, perhaps due to the nature of the levee or to discourage unnecessary driving, but it made for a nice little walk.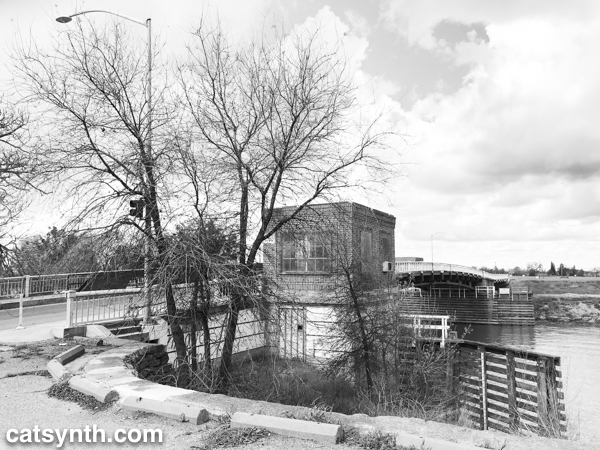 I then returned to the car and finally turned onto Highway 45, heading northwest out of town.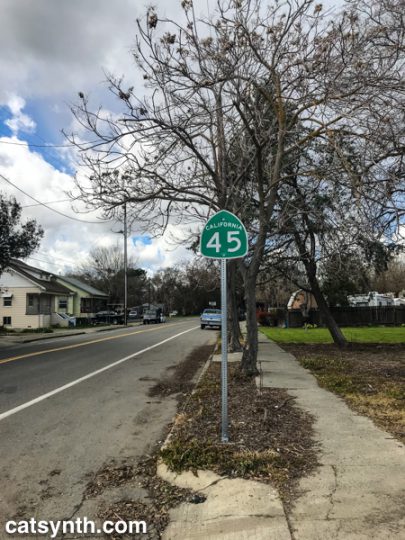 The highway zig-zagged on a grid between fields on the western side of the Sacramento River, but far enough for the river to mostly remain out of sight.  But there were some lovely wide-open farmland vistas, made more dramatic by the bands of clouds in the sky marking what was a lovely day after a week of dreary weather.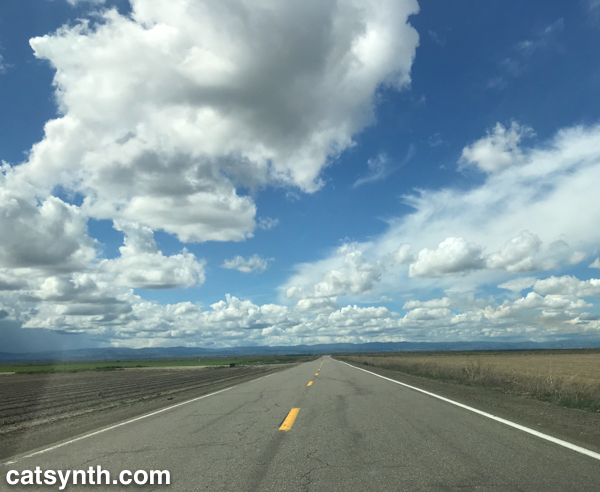 It is when the landscape opened up that I was able to fully relax into the trip.  There is always a point along the journey during which stresses, mundane or otherwise, start to melt away and the road, landscape, and solitude take over the mind.  As Highway 45 is remarkably well signed, there was no ambiguity or uncertainty.  The result is a sense of flow and well being that allows one to both think about other ideas, like music, while remaining fully engaged in the moment.  It is something I have experienced many walking the streets of San Francisco, but not lately.  I certainly hope it isn't gone – as much as I enjoy these long excursions to other regions, I would love to return to the sense of external flow in my own community as well.  Perhaps it is the familiarity or the many stresses and dramas, but I hope to regain it.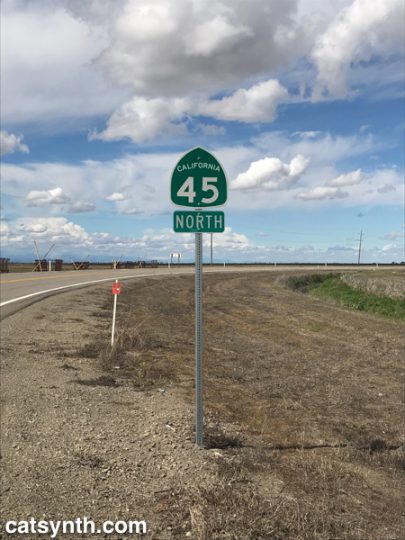 The highway turned due north in Colusa County, providing great views of the Sutter Buttes, considered to be one of the worlds smallest mountain rangers.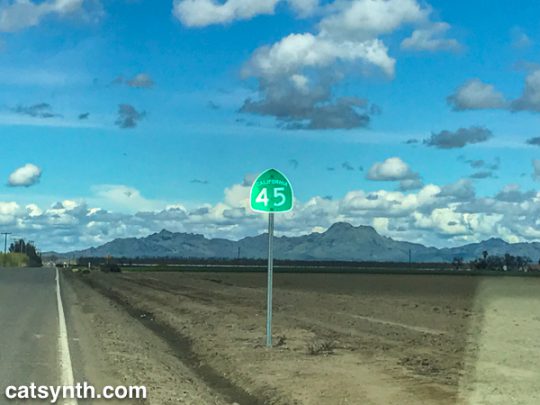 The Buttes are a small circle of volcanic lava domes that rise suddenly from the rather flat Sacramento Valley.  The contrast is fascinating, and I would love to come back and explore the geology at a warmer time of year.  Unfortunately, public access to the Buttes remains limited as far I can tell. (If any readers have any advice or new information about public access to the Sutter Buttes, please share in the comments.)
At this point, Highway 45 comes closer to the river, and between Grand Island and Grimes, comes right up against levees, before turning north again.  It is not surprising to see such high levees, as the entire region seems like a giant flood waiting to happen.
Further north, we join with California Highway 20, a major east-west highway in this rural part of the state connecting to Yuba City to the east and to Lake County far to the west.  The road became wider, smoother, and significantly busier as we continued on the duplex into the town of Colusa.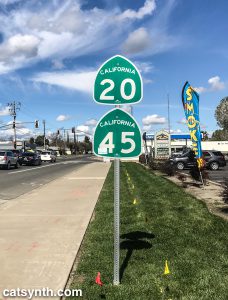 Colusa is a picturesque town on the river, with a small but nice town center and a quiet park along the levee and riverbank.  It had warmed up considerably since I last got out in Knight's Landing, so stopped for a bit to enjoy the sight and sound of the river.  You can see a bit in this Instagram video.
Nearby I found The Tap Room, a small pub that had a large selection of beers including some local brews.  I don't think they had Sutter Butte Brewing, but they did have some selections from Berryessa brewing including this IPA.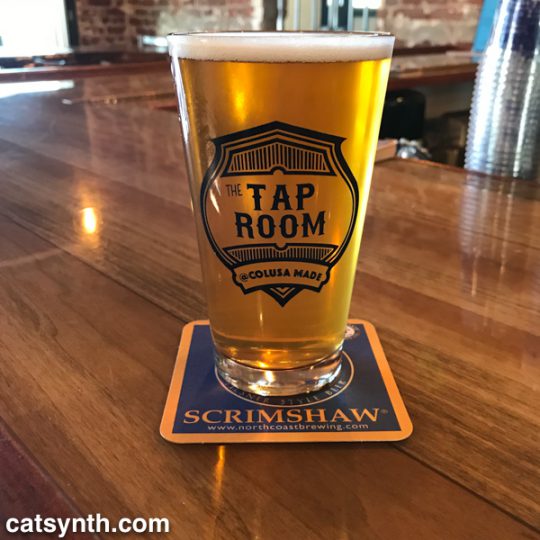 In the enjoyment of the trip, I had completely forgotten that it was St. Patrick's Day.  But I was quickly reminded by the bartender who was decked in bright green regalia and informed me of the holiday pub crawl that would be happening that evening.  This was the talk of the local patrons who started trickling in as the afternoon wore on.  Everyone was friendly and welcoming, but a night of drinking was not going to be compatible with my plan to get back to the city safely at a reasonable hour.  So I bid farewell and headed out on Highway 20 back to I-5 and I-505 to return to the Bay Area.
Tired but accomplished, I crossed the Bay Bridge back into San Francisco and home later that evening.  That would usually be the end of the story, but after resting, we made the last-minute decision to go out again that night.  So I found myself getting dressed up and heading back over the bridge for the third time to Oakland to see Chrome with Helios Creed.  We met up with quite a few friends at the show and had a great time.  You can see a bit of Chrome's performance in this CatSynth TV.
It was a great day of diverse geography and experiences, albeit a long one.  Not every day can or should be like this, but hope there are more to come this year…
See more Northern California in our Highway☆ app, available on the Apple App Store and Google Play Store.