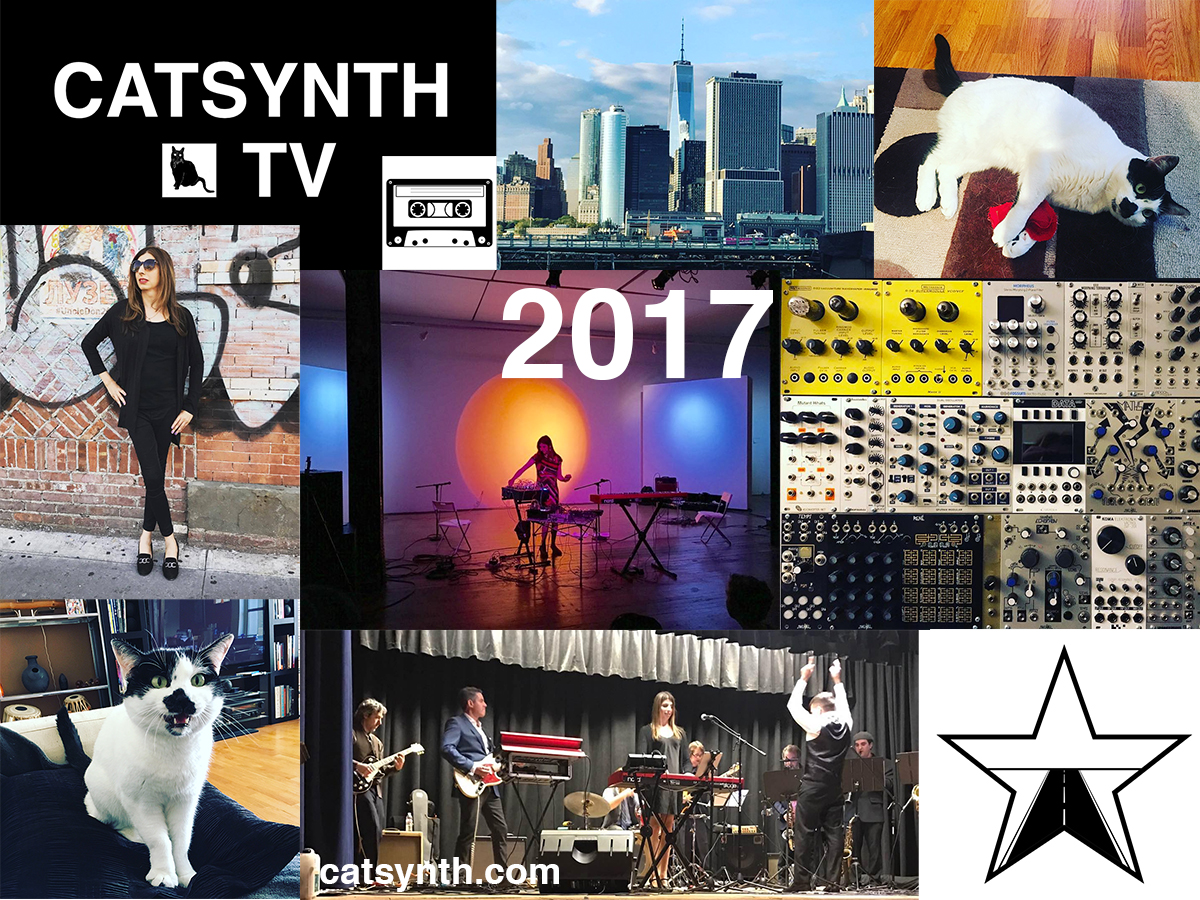 Once again, it is time for our end-of-year collage and review. So many images to choose from in such a busy 2017 that took us in so many directions at once, both outward and inward.
At the end of 2016, I was still reeling from the loss of Luna and the election.  But I did welcome Sam Sam into my life and also promised myself that I would prosper and thrive in the new terrifying Trump era.  And we did, focusing on moving forward with the things from 2016 that did go well.  Lots of new music as a solo performer, with my new band CDP, and with Vacuum Tree Head.   There are now three CatSynth-branded apps for both iOS and Android, and a fourth on the way.  We launched CatSynth TV, with 22 videos under our belt since October.  And Sam Sam has blossomed into a sassy and thoroughly spoiled cat whom we love dearly.
If there is a word of caution on the personal and professional fronts, it is perhaps that 2017 was too much.  After a strong first half of the year through July, I scaled back on live performance to focus on other priorities.  I regret that, but it was also the reality of the many things going on.  I wish the apps, blog, and video channels were progressing faster, but it's as fast as we can go with our myriad other responsibilities.  The last couple months, while still rich with experience, have been an exercise in paring back and trying to focus on the highest priorities; and also focus on health, self-care, and well being.  These are all very challenging, but I'm grateful to have the help of loved ones.
We cannot ignore the fact that our rebound in 2017 after two difficult years took place amidst a dark pall over the country and world.  Many friends have suffered amidst the monumental forces of hurricanes, flooding, fires, and human foolishness.  The latter is most visible in the face of the current regime that continues to embarrass and threaten us.  These are things we have to be vigilant about as we move in 2018.  I do feel personally in the cross-hairs on multiple fronts, so I hope we can continue to survive and prosper as well as we did in 2017, and maybe at the end of 2018 we will look back and saw how the world became at least a slightly better place.
It is also interesting to look back to our end-of-year post from 2007, ten years ago.  It was a dark, cold time amidst major life changes – I couldn't have imagined then what life would be like now.  Will we feel the same way in 2027?  And will there still be a CatSynth then?  Only time will tell…