At least since 2010, all of my trips to NAMM have been road trips, heading east from San Francisco on I-580 to meet Interstate 5 for the long trek south through Los Angeles to Orange County.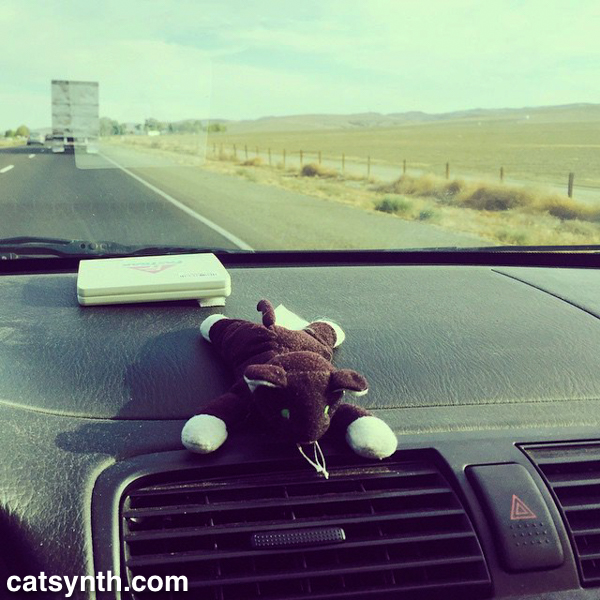 I-5 takes a more direct route through the sparsely populated western side of the Central Valley, compared to CA 99 (former US 99) that connects the major towns and cities of the region, including Fresno and Bakersfield.  The small communities that one does pass are related to travel on the interstate itself or to the farms and orchards that dominate the landscape between stretches of emptier space.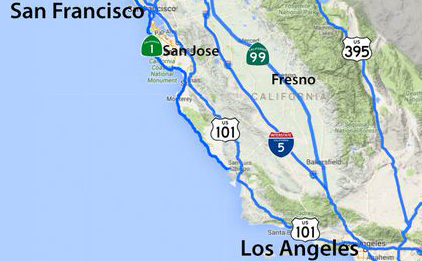 It is a long trip, and one that I know many people would find boring.  But for me, it is something I look forward to, an integral part of the experience along with the show itself, the after-parties and all the other little adventures. This year there was the added fun of testing out Highway☆ on the road trip, but even without that heightened sense of purpose, it is simply an enjoyable "flow experience."  Once over the Altamont Pass and into the Central Valley, stresses begin to fade as the mostly straight line of the road and the low stimulation of I-5 takes over.  It may seem "empty" but there is still is just enough detail along the route to provide balance.  After many years, I have come to know just about every major junction and many of the other details, such as the names of the small communities along the highway.  By the time I arrive in the Los Angeles basin, I am recharged, enough to even remain unfazed by the notorious traffic!
The return trip along a nearly identical route is similarly an opportunity for psychic calm and flow after the nonstop overstimulation of NAMM (I do spend a half day after the show either with friends or at a museum as part of the decompression process before getting back on "The 5").  This year was no different, as I headed back with a tailwind and sense of optimism.   Life seemed calm, free, but also filled with curiosity and excitement about professional opportunities in technology, music, and even travel.  That feeling lasted into our arrival back in San Francisco, at least until my second bout of this year's awful flu kicked in, along with some other stressful local responsibilities.  One of the mental exercises to help through the ensuing week was to focus on how my mind and body responded positively to the I-5 trip (and to the many tendrils of travel in and around L.A.) and thought experiments on how to capture that sense of enjoyment and calm even when not traveling down a straight and empty stretch of road.  I come back again to flow experience and how much that seems to be a product of solitude for me, but it can also come in playing together with musicians at the highest levels.  And then there are situations where flow is stymied or non-existent.  It is important to recognize both, and I hope to explore these topics more in upcoming articles.
See more of Interstate 5 in California and many other fine places across North America in our Highway☆ app, available on the Apple App Store and Google Play Store.