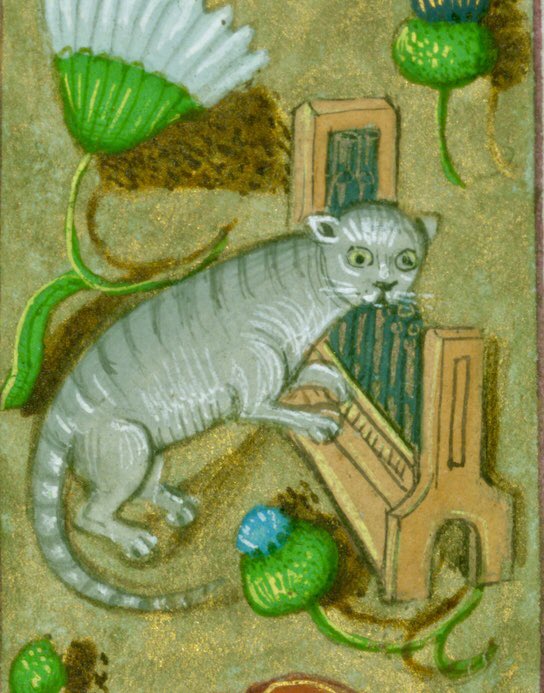 Cat playing the organ [Walters, W. 438, 15th c.].  Posted by Damien Kempf on Twitter and spotted by astute reader @endlessscribe.
The image comes from a 15th century prayer book in the collection of the Walters Museum based in Baltimore.  From the museum's digital library:
This late fifteenth-century Prayer Book was made for the Use of Rome and illuminated by followers of Willem Vrelant of Bruges. The manuscript was probably created for the couple depicted in two full-page miniatures (fols. 13v and 103r). The representation of the bride in the full-page miniatures, as well as references to her in suppliant prayers, indicates that the manuscript was commissioned primarily for the bride's use. Further evidence of this is the prominence of women throughout the illuminations and drolleries, from one who was caught in adultery being brought before Christ, to Veronica extending her veil to Christ as he carries the cross. The decorative aspects of the manuscript stray from the typical border designs of this time period, focusing more on illusionistic Ghent-Bruges' illumination (post-1475) and less on the Vrelant acanthus-floral borders. Among the number of full-page miniatures, fol. 229v stands out as an exceptional example of an imitation of a late fifteenth-century panel painting.
Interestingly, I did not see the cat among the includes samples.