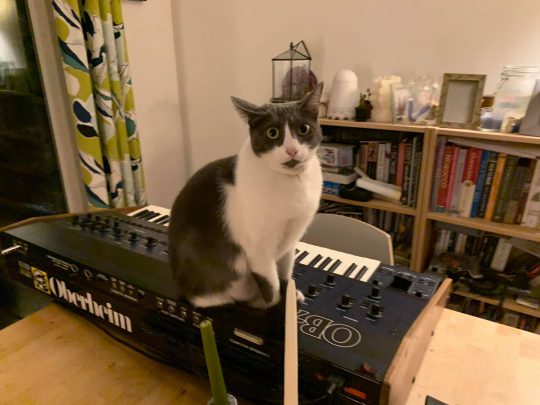 Gracie is back and performing her duties as the quality manager for Synthetic Dreamscapes.
This Oberheim OB-Xa is not totally rebuilt yet, but our Quality Manager just had to get in on the action early!
The OB-Xa is one of the classic Oberheim analog synths and was featured in lots of early 1980s synth-heavy pop music. For me personally, it would probably be more interesting to have the SEM filter to complement the other instruments, but it still has a sound that would be instantly familiar to fans of this era.
The OB-Xa is a massive analog synthesizer with a very familiar and classic Oberheim sound. Its sound, size and power are very similar to the Prophet 5 from Sequential. However this one has up to 8 voices which can be split, layered and stored!

The OB-X was very similar to the OB-Xa except that its voices could not be split or layered and, more significantly, the OB-X had a lowpass-only discrete SEM 12dB/oct state variable filter, which had a great and classic Oberheim sound. The OB-Xa changed that in an attempt to economize manufacturing and increase stability by switching to CEM3320 Curtis chips for its filters. The Xa offered two switchable filter modes: 12 dB/oct (2-pole) or 24 dB/oct (4-pole). This hardware change resulted in a more agressive sound, not quite as creamy as the OBX original, but what still became a "bread and butter" sound of the Oberheim line.

Vintage Synth Explorer: http://www.vintagesynth.com/oberheim/obxa.php