Most Thursday evenings, the California Academy of Sciences in San Francisco hosts Classroom Safari. I have long been fascinated by the small wild cats, so it was interesting to see them up close. The delightfully cheeky staff, however, started out the program with a "cat" that wasn't a cat at all.
This feline-esque creature is actually a genet. It has many cat traits, including its appearance, claws, purring, etc. But it is it's own subfamily of carnivorous mammal, quite distinct from cats. They bear a resemblance to fishing cats with the sleekness, but their snouts are a bit longer, more like a mongoose. Although genet species are native to Africa, they were introduced into southern Europe as the "common genets".
Next up was a more familiar small cat, the ocelot, a commonly found wild cat of the Americas.
Ocelots are adorable, but they are wild animals, and our hosts were quick to point out that this ocelot in particular is quite ornery. Their membership in the leopard family is unmistakable. And they are superbly adapted for life in the forests as well as more desert-like scrub of their range.
One of the themes during the presentation was that these wild cats do not make good pets. It is not good for the animals themselves who retain their wild instincts. They also pose a danger for humans and other domesticated animals. One particularly amusing anecdote involved a "club" on Long Island where wealthy women kept ocelots as a fad, only to learn that ocelots eat small dogs. The next cat was another that is often kept as an exotic pet, the serval.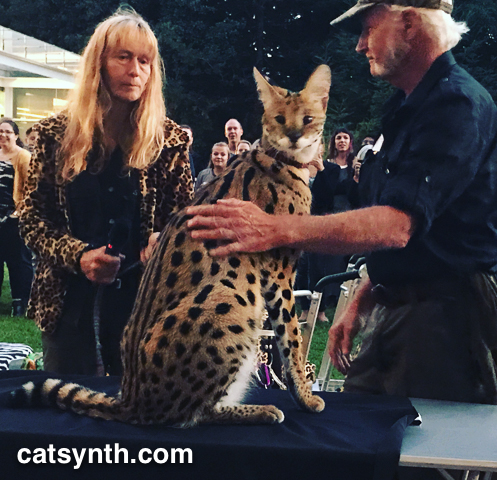 Graceful and athletic, with a sweet face, it's understandable that people are captivated by these cats. Indeed, the Savannah breed is a cross between a serval and a domestic cat. But their wild instincts are honed for large ranges on the African savannahs and wetlands, including the Sohel region as well as sub-Saharan Africa. Such cats do not adapt well to domestic life.
The next and final cat was one that even as a kitten made our serval friend quite nervous.
This adorable baby is a Siberian Lynx. At first thought it was a caracal with the ear tufts, but once one sees the undercoat and the exceptionally large paws, it is unmistakably a lynx. It also came across a bit of a mini-lion, and as such there is no ambiguity about whether it would make a good pet or not. We're happy to get a chance to see these cats, and grateful to Classroom Safari for sharing them with us, as well as their work rescuing wild cats.
Many local institutions were on hand as well to talk about their work with cats, wild and domestic. The was the Felidae Conversation Fund, a group that we at CatSynth have long supported. They are involved in small-cat research projects around the world and in our own backyard. The main project they presented at Feline NightLife was the Bay Are Puma Project.
The results show that pumas are doing relatively well in some areas, but not others. In particular, pumas in the East Bay hills seem be quite fat and happy in their wild area amidst the urbanized surroundings. By contrast, Marin County is not sustaining a healthy population, most likely due to habit fragmentation and such. It's a good reminder that wild cats are not just "exotic", but animals in our neighborhoods.
On the domestic front, our friends at Cat Town were on hand as well. They are dedicated to helping the most vulnerable shelter cats of the East Bay through their fostering program as well as their cat cafe in Oakland, the first in the Bay Area. We wrote about our first visit to the cafe here. The San Francisco SPCA was also on hand, with several adoptable kittens including this adorable black baby.
It is clearly a great opportunity to advocate for shelter pets and even maybe initiate some adoptions. It was crowded around the SPCA booth, and I can only imagine it might have been stressful for the kittens. But we also hope some found new homes as a result.
The Cat Man of West Oakland (aka Adam Myatt) is a one-man local institution advocating for domestic cats in our communities. He was worked extensively with Cat Town and co-founded their cat cafe. But he also continues his own work with Hoodcats, documenting the beautiful outdoor cats of Oakland neighborhoods. He had several of his photos, including some cute black cats. We managed to acquire one of those black-cat pictures, along with a classic print, from a vending machine he had a fund-raiser.
We had a lot of fun at Feline Nightlife, with all the cats as well as the cocktails, people watching and general exhibits of NightLife at the California Academy of Sciences. It was a bit different, but we hope to be back for another themed night some time, perhaps something musical?