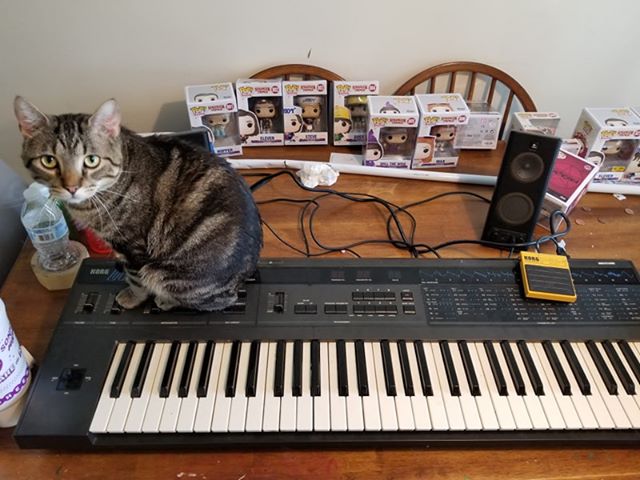 Eggo the cat sits atop a Korg DW8000 synthesizer. From Sam Oliver via our Facebook page.
Eggo the waffle kitty, aptly named from Stranger Things, is having a rest on my vintage 1985 Korg Dw8000 which happens to have a small piece of a much larger stranger things pop figure collection
"Stranger Things" has definitely brought some of the mid-1980s synthesizer sounds into mainstream consciousness – although those sounds and instruments have been popping up again in music for some time now. Around 1986/1987, the DW8000 was Korg's "out-of-my-league" synth, the big flagship compared to the Poly800 v2 that I was initially looking at – and I thought the graphics for the waveforms were pretty cool. Of course, this is the time period when the Yamaha DX7 and their other FM synths were dominant. Ultimately, I went for analog/DCO and FM options in my first synths, but recently I have found myself rather curious about the DW8000 (and its rackmount version the EX8000) again.