As 2018 draws to a close, we look back a recent show we saw at VAMP (vintage – art and music – for the people) in Oakland. It was the subject of our most recent CatSynth TV.
As one can see at the start of the video, it was pouring rain that night. And it did not let up for the entire evening. But that did not stop an intrepid collection of music lovers from settling into VAMP's small and quirky space to hear two great ensembles.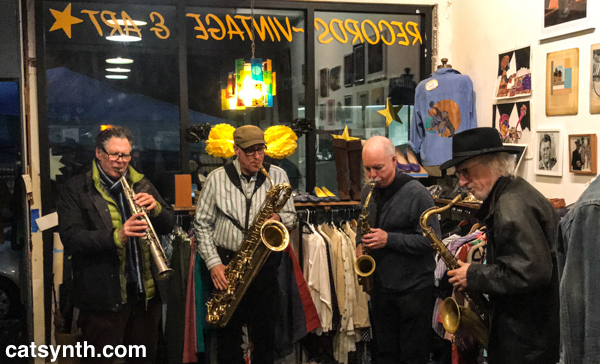 The venerable Rova Saxophone Quartet have been performing together for 40 years, so it's not surprising that they have coalesced into a sound all their own. Each of the four members, Bruce Ackley, Steve Adams, Larry Ochs, and Jon Raskin, have their own character, but as a group they function as one instrument. This is true even during fast runs, as they did in the latter half of the set, and when various members drop out or "solo" for a section.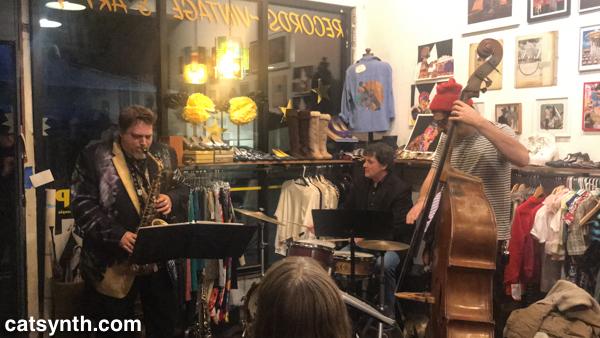 Rounding out the evening was the Life's Blood Trio, led by Rent Romus (saxophones) and featuring Safa Shokrai on upright bass and Timothy Orr on drums. This is a version of the larger Life's Blood Ensemble pared down to its essentials. But there is still a rich and full sound in the spartan setting, with the three members filling the full harmonic and textural space. Romus' performance is always expressive and frenetic, filled with emotion. Shokrai played an amazing extended bass solo. Orr kept things grounded, including during a solo of his own.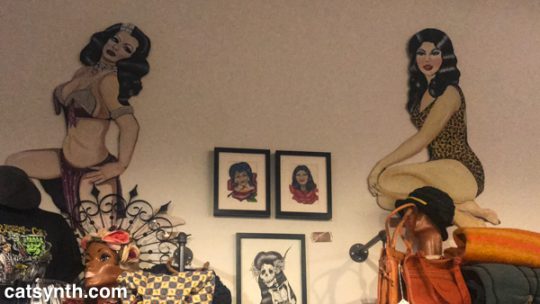 VAMP is a bit of a performance in an of itself, with its odd collection of items for sale and a record collection that requires one to sift through and look for surprises. They've been holding on, even as Oakland changes in myriad ways. We look forward to seeing more music there – and perhaps playing there again – in 2019