After a couple of months away from live performance, I found myself playing two shows in one weekend, both in the Mission District of San Francisco. They were an exercise in contrasts artistically, but both were delightful in different ways.
Word Performances is a "variety show" of poets, musicians, and dancers produced by Cybele Zufolo Siegel and Todd Siegel. The latest incarnation took place at the Lost Church, a favorite venue of mine for its cozy theater and visual vibe reminiscent of David Lynch.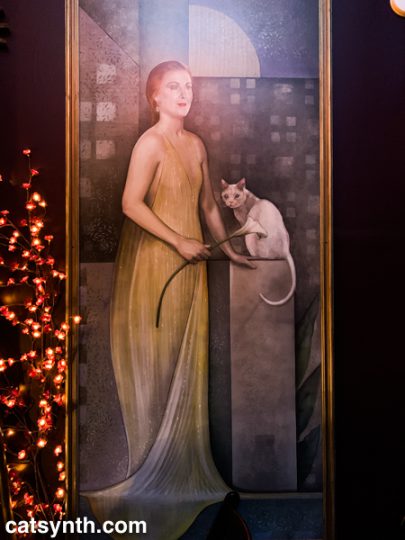 Like any good variety show, it features a staple of regular players that includes both Cybele and Todd, but also Pitta of the Mind as a recurring act. There were of course new participants as well, especially among the poets. You can see a bit of everyone in our video from the evening.
As is clear from the short excerpts, there was a diversity of styles and subject-matter. There were the spartan settings of the readings by Rose Heredia, Jon Sindell, Crystal Jo Reiss, and William Taylor, Jr. Todd and Cybele also gave readings, but with violin accompaniment provided by Hannah Glass. And flamenco Dancer Damian Alvarez stole the show with his tightly choreographed dance to the music of James Brown.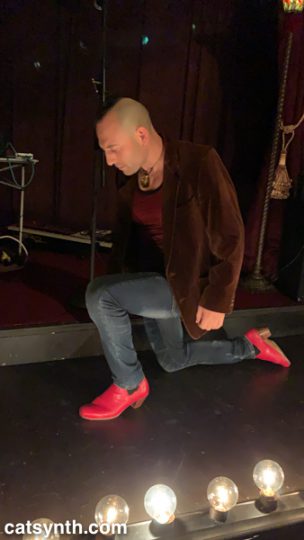 For Pitta of the Mind – myself and poet Maw Shein Win – we performed a brand new set with new poems, and a new color theme of green. The instruments were the same as for our previous performances, combining the Nord Stage, Prophet 12, and modular synthesizers. The consistency in structure and instrumentation helps in our ability to quickly come up with a new set.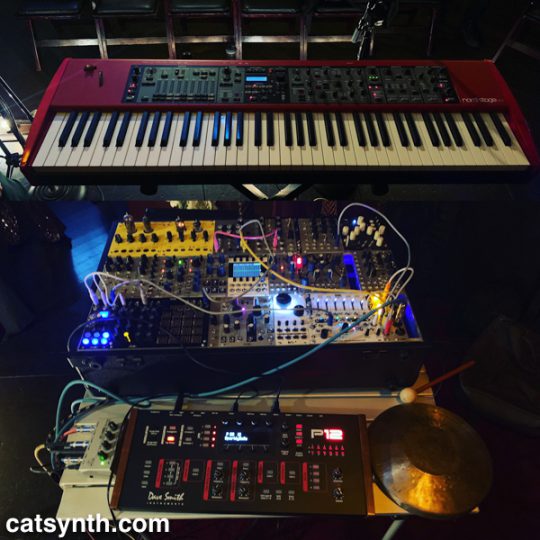 Other than my psychedelic lights not working as expected, it was a solid set overall, and we are always happy to be part of the Word Performances shows.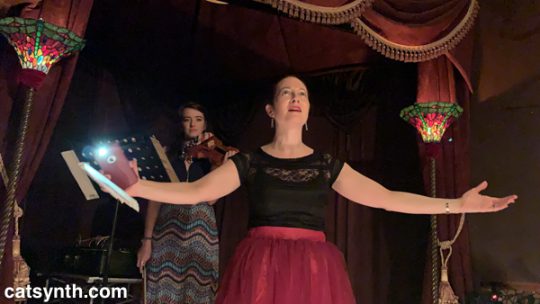 ---
If Word Performances provided a diversity of styles and media, the show later that weekend was very focused on invented instruments, unusual sounds, and the birthday of our friend David Michalak. You can see a bit of everyone in our CatSynth TV video (with David giving the valedictory tag).
This was the first time I performed as a duo with Scott Looney, but I was quite happy with the results. We are both skilled improvisers and were able to blend our sounds and ideas together seamlessly, with my performing on an Arturia MiniBrute 2 and Scott on a custom string instrument with various preparations.
Our set as well as the one that followed us featuring Tom Nunn, David Michalak, and Aurora Josephson had a similar texture: a lot of wisps, scrapes, and staccato elements. It was interesting to see how much musically David could get out of a flat piece of cardboard! The opening set with Tom Nunn on skatchbox and Ron Heglin on voice also had a very pointed and sparse texture.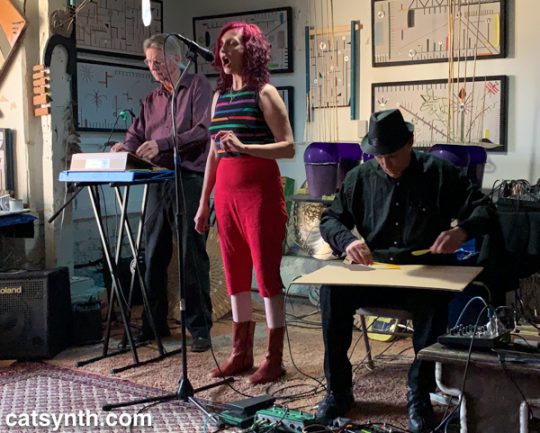 The final set featuring Ghost in the House had a softer, longer, and more liquidy quality. This time David Michalak was performing with a processed harmonica and lap steel guitar, with long tones matched by Polly Moller Springhorn on bass flute and Cindy Webster on musical saw – and this was no ordinary musical saw, it seemed built specifically for music.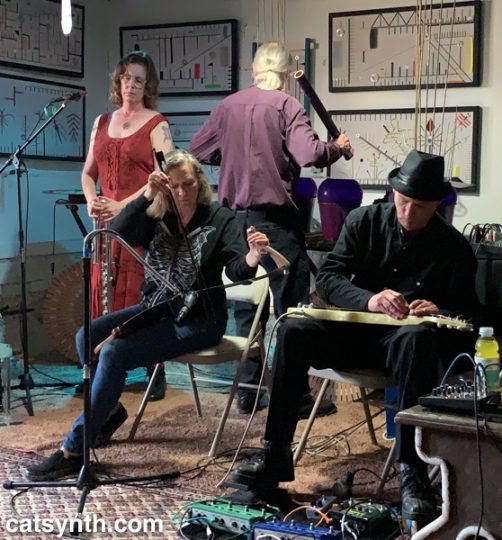 Overall, it was a fun show, and of high quality musically. It's a shame more people weren't able to hear it live – it was a private event – but the video captures much of the experience in a compact form.