We at CatSynth feel there is no better way to celebrate Superb Owl Day than with "owlsynth pics". Here is our stuffed owl atop our main modular system.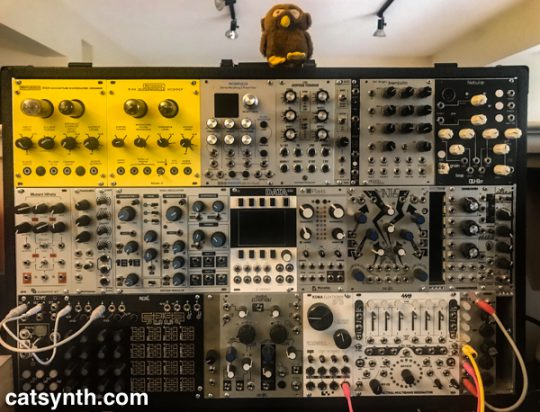 And with our trusty Roland Boutique VP-03 vocoder.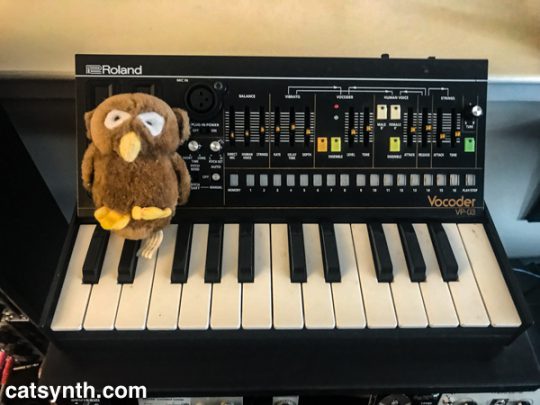 And with our Arturia MiniBrute 2.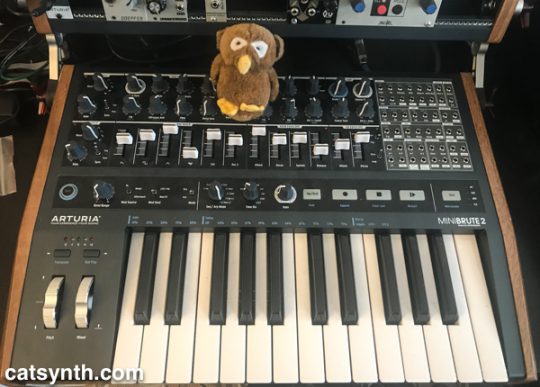 (Definitely need to tidy up a bit there.)
Owls are quite captivating as they are so different from other birds, even from other birds of prey. We all know their unique front-facing faces and nocturnal behavior. But they also have amazing auditory capabilities.
Both the cat and the Barn Owl have much more sensitive hearing than the human in the range of about 0.5 to 10 kHz. The cat and Barn Owl have a similar sensitivity up to approximately 7 kHz. Beyond this point, the cat continues to be sensitive, but the Barn Owl's sensitivity declines sharply.

Some Owl species have asymmetrically set ear openings (i.e. one ear is higher than the other) – in particular, the strictly nocturnal species, such as the Barn Owl or the Tengmalm's (Boreal) Owl. These species have a very pronounced facial disc, which acts like a "radar dish", guiding sounds into the ear openings. The shape of the disc can be altered at will, using special facial muscles. Also, an Owl's bill is pointed downward, increasing the surface area over which the sound waves are collected by the facial disc. In 4 species (Ural, Great Grey, Boreal/Tengmalm's & Saw-whet), the ear asymmetry is actually in the temporal parts of the skull, giving it a "lop-sided" appearance.

Owls and Hearing – The Owl Pages
We at CatSynth hope you all have a fine and enriching Superb Owl Day!