Among the more unique instruments that we saw at NAMM this year was the Blipblox, a fully functional synthesizer in a plastic shell reminiscent of children's toys.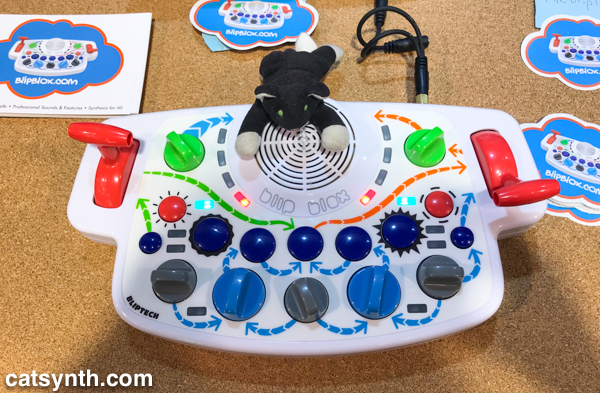 Don't be deceived by its appearance. The Blipblox is a full-featured monophonic synthesizer with selectable signal topologies and oscillators; a low-pass filter; a sequencer; and even a drum machine.  There is also a modulation matrix to complete the feature set.  In some ways, it seems similar to overall style and concept of the Moog Mother-32, though it is of course a very different instrument.
You can hear a bit of our attempt to play the Blipblox in this video.
It certainly seems like an interesting way to introduce kids to synthesizers and both the science and art of sound.  But it also seems quite usable for live performance – if it's rugged enough for kids, it's probably rugged enough for the stage.  We look at it an immediately think of the repurposing of musical toys for experimental electronic performance via circuit bending.  Whether a Blipblox is bendable or not is beyond the scope of this initial look, but it would certainly fit in with a setup that includes such modified instruments.
More info can be found at https://blipblox.com/