Our 2019 NAMM experience began a little earlier this year when we stopped by Behringer's offsite event in the Chatsworth neighborhood of Los Angeles. It was an opportunity to check out their current and upcoming synthesizer offerings. You can see some of them in this video.https://www.youtube.com/watch?v=ylvIpER
There is perhaps no synthesizer maker more controversial and more talked about these days than Behringer. Some dismiss them outright, others condemn their cloning of classic instruments, and others applaud their making affordable synthesizers that sound good and play well. Mention them in any synthesizer forum, and you are likely to get more responses than with any other topic.
Overall, I was happy with what I saw from them this year. I particularly liked the Vocoder VC340, a clone of the legendary Roland VP330 vocoder.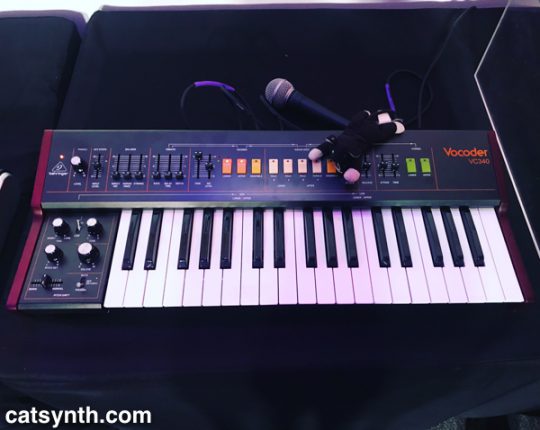 I already own a Roland Boutique VP-03, so I have access to this sound and signal path, with all its temperamental qualities. But the VC340 comes in a larger package with full-size keys, with electronics more similar to the original, including the voice and string synthesizers. It would make a great stage vocoder if I had need and space for one. It is also easier to get external signals into it, and we played around using Behringer's new Rhythm Designer RD-808 as the modulator signal (you can hear it in the video).
Behringer has also come out with a clone of the Odyssey, simply called Odyssey.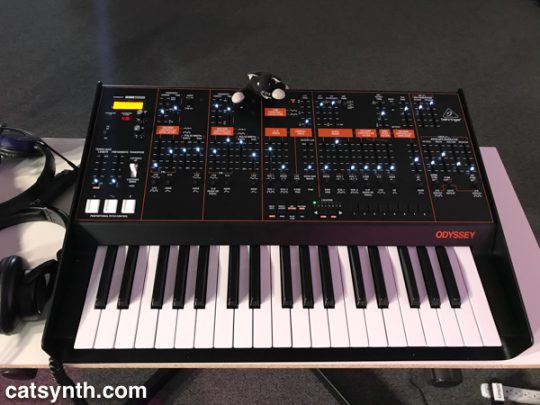 It's industrial design, font, and colors are remarkably similar to the original (something which probably makes Behringer's critics howl). But it's a good sounding unit, and quite rugged looking. The layout of the sliders is a bit different from what I know from the original, the Korg clone, and my Octave CAT, so I didn't have the opportunity to dial in the "Chameleon" tone and give it the Herbie Hancock test, but I did get some interesting modulated sounds familiar from the original Odyssey.
It is important to note that Behringer has also produced original instruments such as the Neutron.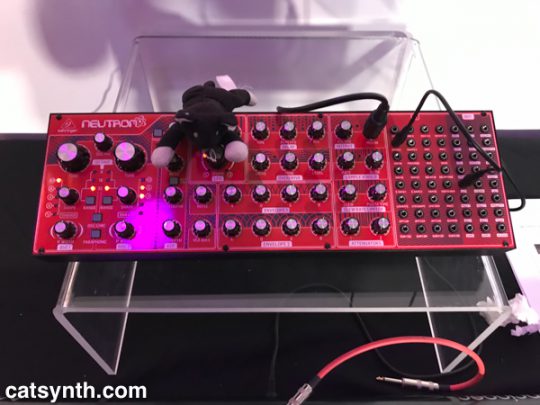 The Neutron is a Eurorack-compatible synthesizer with all the expected VCO, VCF, and VCA sections, as well as an extensive modulation matrix. It does not have a sequencer, but the Eurorack ecosystem is awash with sequencers so that shouldn't be much of an issue. The Neutron is on the surface similar to the Moog Mother-32 and Arturia Microbrute (sans sequencer), but it does have its own sound. Is it different enough to want it if you already own those instruments? That is subjective. But it played well, and at $399 is quite affordable.
There is also the clone of the Minimoog, the Model D, affectionately known by many of us as "The Boog."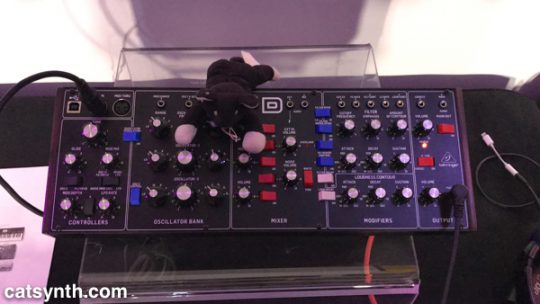 It sounds like a Model D. And it is Eurorack compatible. It's a great affordable option to get that sound. End of story.
And finally, there is the new MS-101, a clone of the Roland SH-101, complete with red and blue finishes.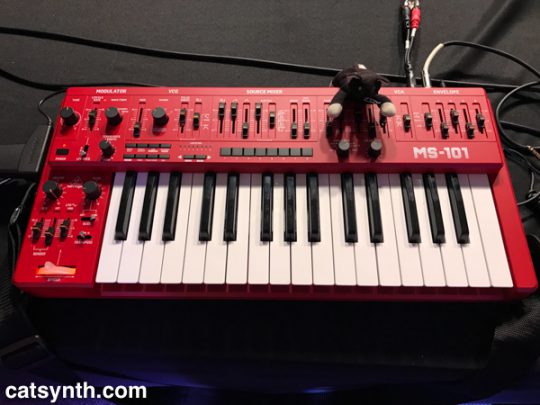 I don't think the controversies around Behringer will fade anytime soon, especially as they continue to ramp up their synthesizer catalog. For those who complain about their cloning, there are others who charge "elitism" at their critics, considering the high prices vintage instruments and even current Eurorack modules command. Plus, these instruments have MIDI, USB, and other features that are rather handy when making music. We at CatSynth come down somewhere on the outside of this discussion, and simply enjoyed playing the instruments; and we might look into that vocoder.