Nemo the cat plays a modular synth via Novation and Arturia controllers 😺🎛.  From Stefano Girola (@squarewaves) on Instagram.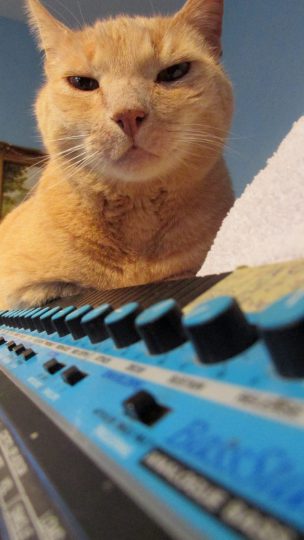 Meet Nemo!  He is showing off an original Novation Bass Station keyboard synthesizer.  Photo submitted by Arthur Schmitt via our Facebook page.
Many readers will be familiar with the popular Bass Station 2.  The original Bass Station was released in the early 90s, first in this keyboard form and later in a more popular rack form.  (It was the 90s, so we still all had collections of 1U-3U rackmount instruments and signal processors).  From Vintage Synth Explorer:
Before the famous Novation Bass Station Rack module came the small and portable Bass Station keyboard! This synthesizer uses digitally synchronized analog oscillators (DCO's) to reproduce the sounds of a monophonic dual-osc analog synthesizer with simple and intuitive controls via 17 knobs, 10 switches and 2 Moog-style pitch/mod wheels. Think EDP Wasp and ARP Odyssey.