We resume of coverage of the 2018 NAMM Show after a few days break – and a nasty bout of "NAMMthrax" – with the latest spin on an old favorite: the Nord Electro 6.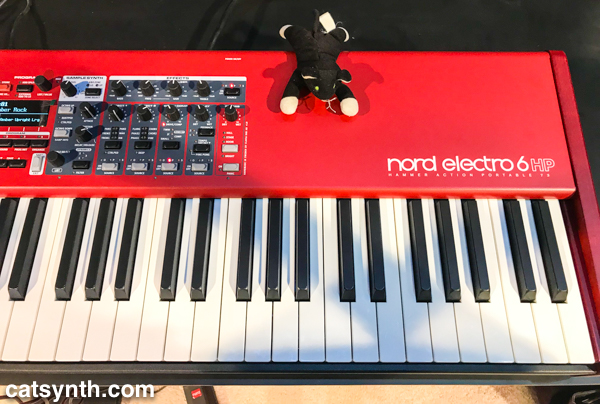 Longtime readers know that I have been a user of Nord keyboards since I got my trusty Nord Stage EX back in 2010.  It has served me well, but have sometimes been envious of the features in subsequent generations, notably the expandable Piano Library and Sample Library (the original Stage does not support the sample library at all).  With the Electro 6, the separation from the Stage line is much more blurred, and it calls into question the need for a Stage at all for those of us who fell in love with Nord keyboards for their electric pianos.  The Electro 6 supports up to 3 layers and splits (something previously limited to the Stage).  The electric piano (and acoustic piano) section is enhanced with new layering features and its own filter section that allows one to dial in different tones within a particular model.  And the piano library is expandable with 1GB of memory.  The organ section uses the C2D engine, and a rock organ is quite handy in a variety of situations.  The sample library allows for classic Mellotron sounds as well as a variety of others.  The one section from the Stage that is missing is the independent A1 synth (similar to the Lead).  Personally, it is the section I use the least, so I wouldn't miss it if I moved over to the Electro.  Plus, this model would be a little bit easier to schlep back and forth to gigs.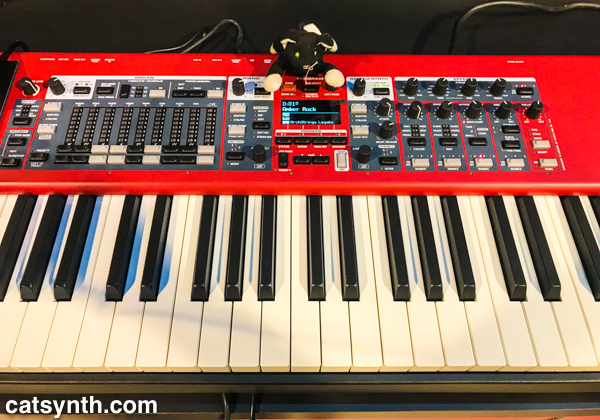 The Electro 6 comes in three models: 61-key and 73-key semi-weighted with mechanical organ drawbars; and the "HP" version with 73 fully weighted keys and LED drawbars.  As a pianist, the latter would be my preference.
If you are already fortunate enough to have an Electro 4 or 5, the 6 probably won't be a big enough change to warrant an upgrade, especially at the high prices these instruments command.  But if one has been waiting eight years, it might be the time…