Our incredibly musical two weeks that began with Herbie Hancock concluded with King Crimson's return to the Fox Theater in Oakland. We at CatSynth saw their last visit in 2017 and were excited to hear what the brought this time around.
It was a pleasure to see King Crimson back in action again, albeit with another lineup change.  This time around, Bill Reiflin was not with the group, and so there was no full-time keyboardist.  His duties were taken over by drummer Jeremy Stacey, and, at times, winds player Mel Collins. Of course, Robert Fripp was there, holding court seated stage left next to his tower of gear, as were longtime members Tony Levin on bass and Chapman stick and Jakko Jakszyk on lead vocals and guitar. Rounding out the trio of drummers were Gavin Harrison and Pat Mastelotto.
The group once again made a great overview of their 50-year history.  I was particularly pleased to hear "Cat Food" from the 1970 album In the Wake of Poseidon played. "Cat Food Cat Food…again!" The music is malleable and adaptable to the current band's instrumentation and abilities.  Choruses are reharmonized, as was the case with "Cat Food"; vocal numbers are re-arranged into extended instrumental pieces, as in "The Construction of Light"; new melodies were added, as in "Indiscipline"; and so on. There were also new lyrics to the chorus of "Easy Money". The combination of the three drumsets was even tighter than the previous tour, and more nuanced as well with each playing entirely different parts in a three-voice counterpoint that occasionally coalesced into a massive syncopated thunder. It should also be noted that the drums were a bit lighter because of Stacey's keyboard duties.
The sound in the first set was a bit challenging at times; the winds and vocals in particular suffered.  Thankfully, this was all corrected going into the second set. And just when it seemed they were going to get through the entire night without playing "21st Century Schizoid Man", they returned with the tune as their encore, with extended abstract solos and instrumental sections.
As always, King Crimson is very strict about photography during their concerts, but at the very end, they ritualistically share a moment taking pictures of the audience while we picture them. This time both Tony Levin and Robert Fripp snapped pictures of the audience as we returned the favor.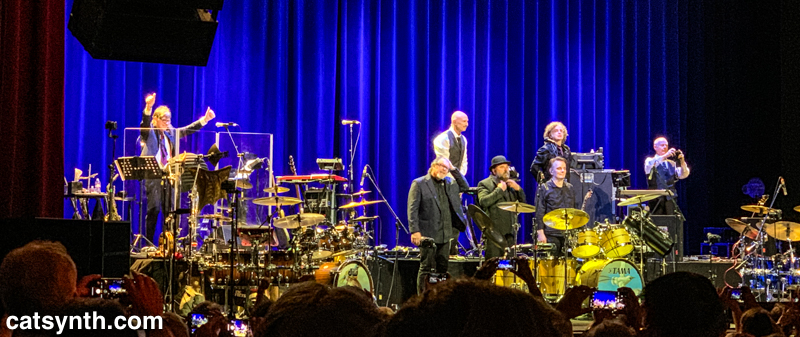 Here is a photo of the audience from Tony Levin's blog. We are somewhere in the lower left of the orchestra.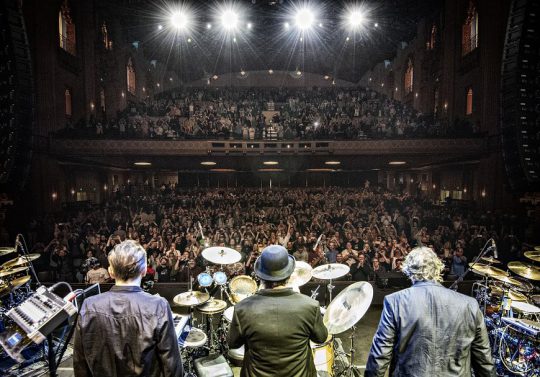 [Jason Berry contributed to this story]