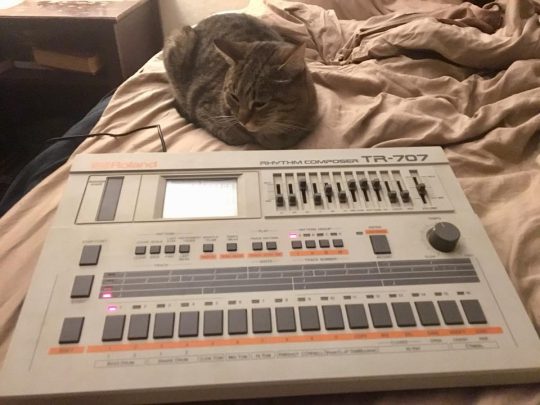 Eli returns, with a Roland TR-707 rhythm composer.  Submitted by Elias Laughton via our Facebook page.
A bit about the TR-707 from Vintage Synth Explorer:
A very underrated drum machine! It resembles the popular TR-909, and better yet, its hi-hat, cymbals, and clap sound almost identical to the TR-909! The TR-707 is a great source for cheap 909 samples. It has some other cool features too such as its Matrix display which clearly maps out your pattern for you in an easy to read display panel. It also features both MIDI in/out and DIN sync control – the best of both worlds. Why this unit even has individual outputs for each of its drum tones!
Those individual outputs might come in handy when using together with a modern modular synthesizer setup.
You can see Eli's previous appearance here.