The fifth of May marks a great many things. It is the birthday of Karl Marx – indeed, today marks his bicentennial! It is also a day when many Americans inexplicably get drunk and culturally insensitive in celebration of the Mexican defeat of the French Empire in the town of Puebla. And finally, it is National Cartoonists Day.  And in honor of this occasion, we celebrate many noted cat cartoonists.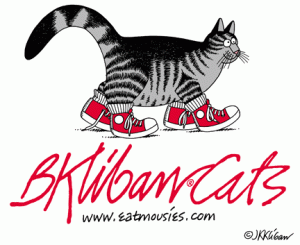 We begin with B Kilban.  An artist originally from Connecticut, he got his start as a cartoonist here in San Francisco, drawing for Playboy.  It was at Playboy where his distinctive cat cartoons were discovered by editor Michelle Urry.  This led to his most well-known book, Cat.  You have probably seen his cats both in formal cartoons and adorning many products.  Kilban passed away in 1990, but his legacy lives on through his books and syndication of his images.  You can find out more at his official website www.eatmousies.com.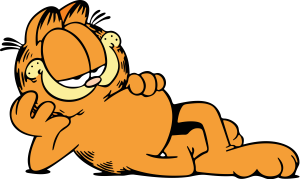 Of course, an article on cat cartoonists must include Jim Davis, the creator of Garfield.  Davis grew up on a farm in Indiana with his parents, brother, and 25 cats.  While the main human character in Davis' cartoons, Jon Arbuckle is also a cartoonist who grew up on a farm, the spoiled and overweight Garfield seems nothing like a farm cat.  Indeed, his disdain for the concept of catching mice is a frequent topic of the strips.  Many an orange male cat has been named "Garfield" in the character's honor.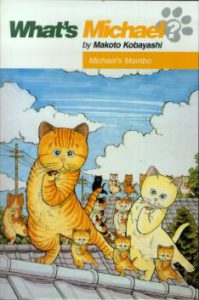 One of the best-known works of Japanese manga artist Makoto Kobayashi also features an orange cat. What's Michael? chronicles the adventures of a shorthair tabby named Michael and his many feline friends.  It was originally released in serial form in Japan's Weekly Morning manga magazine, but it now available in the U.S. as well via Dark Horse Comics.  The stories are a mix of the mundane and surreal, with Michael sometimes appearing differently than the orange shorthair title cat, and sometimes even dying in certain episodes.
New Yorker cartoonist George Booth is best known his complex doodle-like cartoons featuring befuddled humans and their pets.  They are a mainstay of the magazine and synonymous with the "New Yorker style" of cartooning.  While the animal most frequently featured in his work is a fat dog with big ears, there are often cats as well.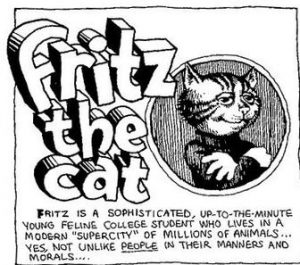 And then there is Fritz the Cat, created by the legendary R. Crumb.  Fritz originally appeared in Crumb's homemade comic book "Cat Life".  Originally based on the family cat, Fritz became anthropomorphic in later iterations, evolving into the hedonistic con-artist character that was a mainstay of underground comix in the 1960s.  Fritz's adventures in a New York-like mega-city populated entirely by anthropomorphic animals often devolved into chaos with unusual sexual escapades.   In the 1970s, Fritz the Cat was made into an animated feature film by Ralph Bakshi.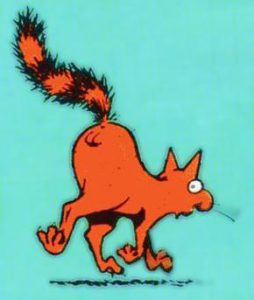 Another underground comix artist Gilbert Shelton created a well-known feline character.  Known simply as "Fat Freddy's Cat", he initially appeared in Shelton's Fabulous Furry Freak Brothers strip about a trio of stoner characters in the 1960s before getting his own strip.  A standalone series, The Adventures of Fat Freddy's Cat was published in the 1970s and expanded in a 1980s release.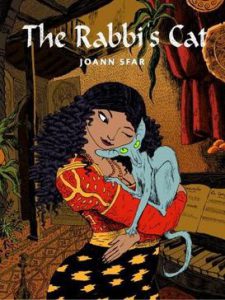 Joann Sfar 
is a French comics artist.  Influenced by the European comics artists of the 20th century including the great Moebius (Jean Giraud), he has a distinctive style that is at once more realistic and fanciful.  One of his most well-known series is 
The Rabbi's
Cat
, first released as a comic book in 2005 and later adapted into a film in 2011, which he directed.  The main feline character is a cat who has the ability to speak and lives with a rabbi and his daughter in the Jewish community of 1920s Algeria.  Sfar's Jewish heritage runs through many of his works, but no more directly than in
The Rabbi's Cat
.  In addition to the books, we at CatSynth recommend seeing the film (which is gorgeous) in the original French.

Another classic of feline cartoons is Krazy Kat, by George Herriman.  It had a long run as a comic strip in American newspapers from 1913 to 1944 when Herriman died.  The strip was based around the ostensibly simple cat-and-mouse trip, with the cat named Krazy being taunted and tormented by a mouse Ignatz who is often shown throwing bricks at Krazy's head.  Krazy speaks in a very stylized mixture of English and other languages and is of indeterminate gender – though inexplicably smitten with Ignatz.
And finally, we would be remiss if we did not include our very own J.B., author the Mensa Cats series that appears right here on CatSynth.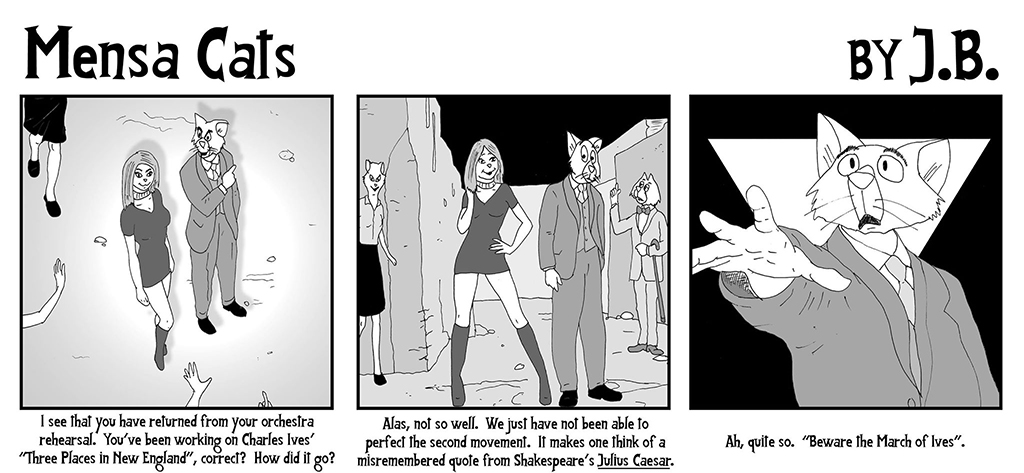 You can see many more episodes of the Mensa Cats on these pages via this link.  We also encourage interested reads to find out more about all the artists discussed in this article and to read their comics.