Last Thursday night at the Outsound New Music Summit, musicians and music lovers came together to celebrate the life and legacy of one of our own, Ralph Carney.  He was a fixture of the Bay Area new-music scene who could be spotted performing in many groups and venues, and he also enjoyed success and notoriety in popular music with Tom Waits, the B-52s, and others.  He is also one of the most infamously colorful characters in the scene.  He passed away suddenly at the end of 2017 in an accident, leaving many both shocked and saddened.  This tribute concert featured a performance by Rubber City, of which Ralph was a member, and a memorial ensemble featuring local musicians who performed his compositions.
In the week leading up the concert, we had the chance to speak with David Slusser of Rubber City and Phillip Greenlief, who arranged Carney's music for the memorial ensemble.  You can hear from them in these videos.
Rubber City opened the evening with a rendition of Beautiful Ohio, sounding much like they did in the video.  It was a fitting opening as Slusser, Carney, and drummer Chris Ackerman were all Ohio expatriates.  They were joined by bassist Richard Saunders and reedist Sheldon Brown.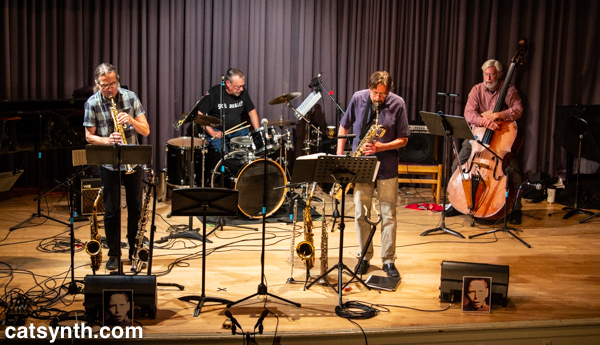 The second piece, a rather bluesy tune, also evoked their Ohio origins and gave Saunders and Brown a chance to shine in solos.  The next was much darker and more atonal/arhythmic in nature but still had a very playful quality to it.  Another featured Slusser and Brown both playing soprano saxophone at the same time, a rare combination!  For the last piece, they set aside the saxophones for bass clarinet and flute.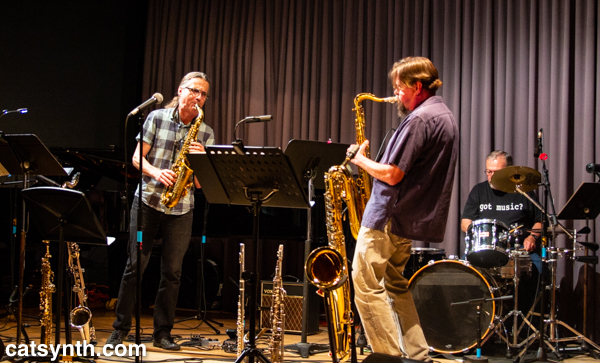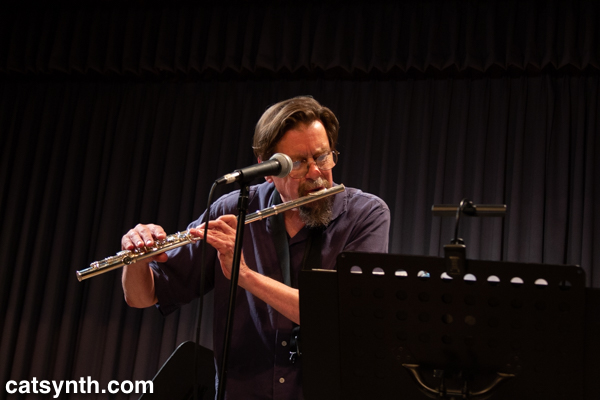 Even during moments of seriousness, there was a lot of fun and energy in the music, which was fitting for the artists on stage as well as the one they were paying tribute to.  It was a tremendous performance overall, and one I am not likely to hear repeated soon.
Slusser, Brown, and Saunders returned in the second set for the memorial "octet" that actually had nine members.  They were joined by Phillip Greenlief and Rent Romus on saxophones, Suki O'kane on drums, Myles Boisen on guitar, and Karina Denike and Michael McIntosh from Carney's "Serious Jass Project."  The performance was dominated by the horns in what I dubbed the "wall of saxophone."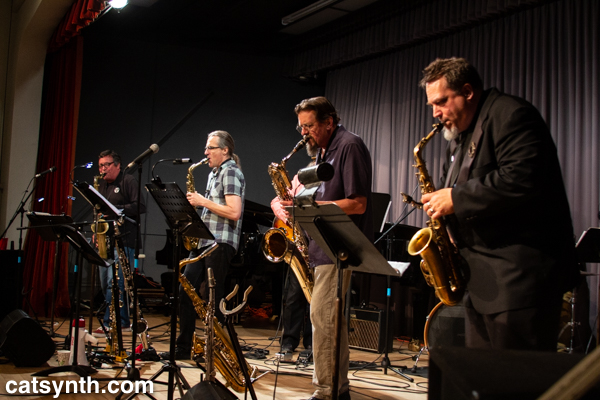 The group began on a somber note with Carney's Lament for Charleston, written shortly after the massacre at the Emanuel AME Church in Charleston, South Carolina in 2015.  But even this dark piece had exuberance and could not fully contain the energy of the large group.  From there, they continued on a rollicking trip through Carney's compositions, including his oddball marches and an old-timey song about driving down Sunset Boulevard in Los Angeles that was sung by Greenlief with great effect.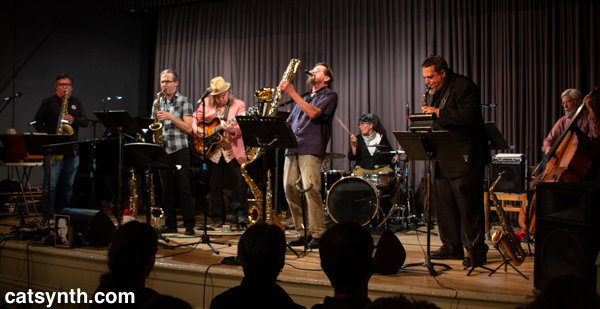 In keeping with Ralph Carney's wide-ranging musical interests, there were a number of vintage jazz-style and mid-century tunes complete with swaying horn-section choreography.  Karina Denike's singing and vintage presentation added to the overall effect and classic style of the performance.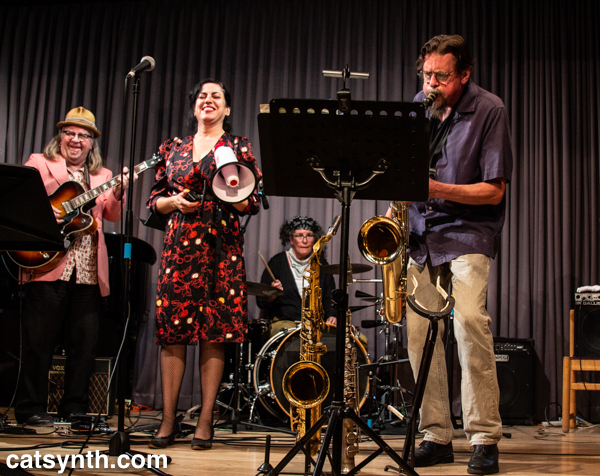 Many of us were simply caught up in the joy of the music and the celebration.  Upon reflection, one realizes how different this was from the typical Outsound set with its references to swing, bebop, and early rock-and-roll.  But there is absolutely nothing wrong with that – I have long professed that "new" and "experimental" musicians should not feature traditional idioms and structures in their music.  This was an unequivocally great show, and the fact that it was on the Outsound stage was all the better.
Both bands played to a full and very appreciative house.  Throughout the evening, on stage and in the audience, people shared their memories of seeing Ralph play or performing with him, and how much he is missed.   I am confident that he would have loved our musical tribute and celebration, though he probably would have expressed his appreciation in an appropriately dry and confounding way.