We at CatSynth have been extraordinarily busy since the start of summer with work, music, and other obligations. As a result, our explorations of visual art have suffered a bit. But we start correcting that today with a report from the blockbuster René Magritte: The Fifth Season exhibition at SFMOMA. I'm glad I was able to get in to see it before it closes in two weeks!
The exhibition focuses on his later works, from World War II through the late 1960s. It is billed as "If you think you know Magritte (1898–1967), think again." Yet, this period includes many of his most iconic works – other than perhaps his most famous La Trahison des images (aka "this is not a pipe"), including many of my favorites from the broader Magritte retrospective I had seen at SFMOMA in the early 2000s.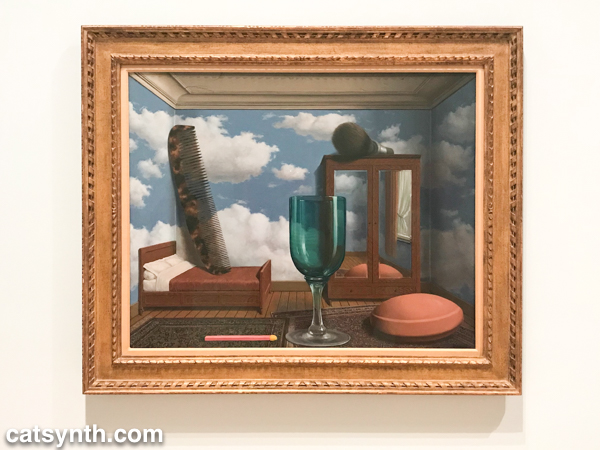 The work depicted above, Les valeurs personnelles, is perhaps my favorite of all. I find myself drawn to it not just because of the stark juxtaposition of larger-than-human-sized objects in a smaller-than-human-sized space, but for the various textures that defy painting. The objects themselves have the hyperrealistic sheen of graphics from the 1990s (we were all proud of our ability to render glass) with the more pedestrian room space and strangely realistic sky on the wall. These are the characteristics of many of Magritte's pieces during his Hypertrophy period in the 1950s. It's taken to an extreme in a piece that features one of his iconic green apples swelling to gargantuan proportions and pushing against the walls of a modest room.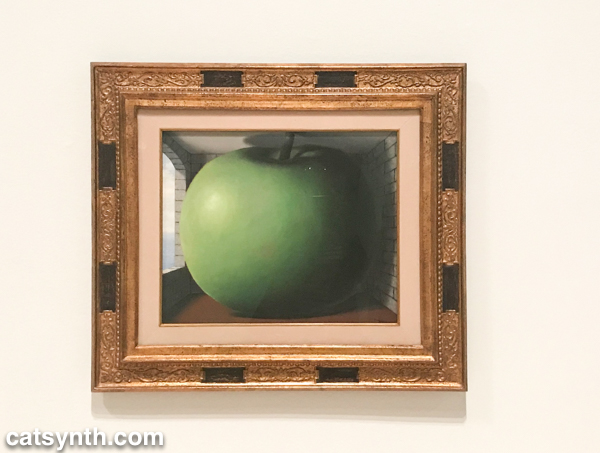 And of course, there were many bowler-hatted gentlemen, some with green apples, some without.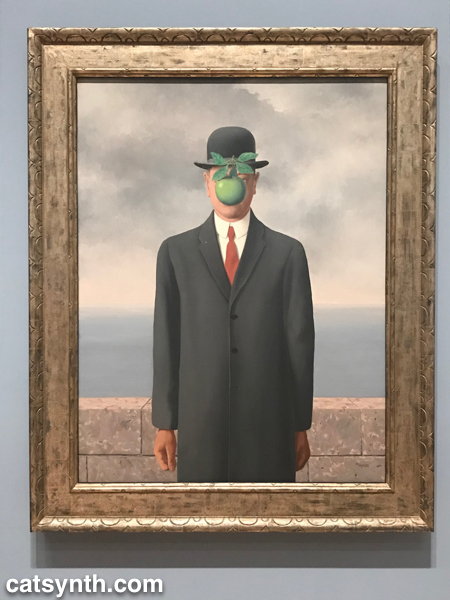 The image of the bowler hat and the bowler-hatted man has appeared throughout Magritte's career, but it was more closely associated with the artist himself in his later works, a form of self-portraiture.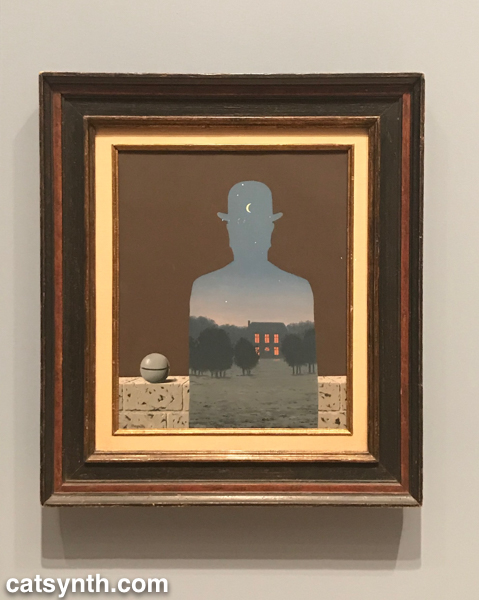 In addition to the green apple, we see many objects and concepts that appear in other works from this period applied to the bowler-hatted man, such as the small round stone, birds, and negative spaces.
In both sets of works, we see the discrete juxtaposition of elements that may or may not fit with real-life experience. I see this is as "quintessentially Magritte" and consistent throughout most of his career. In that sense, I disagree a bit with the thesis of the exhibition that this later period was a break with surrealism, but rather a reimagining of it with different subjects and techniques and without the heaviness of the movement's manifesto. If there was one section of the exhibit that truly represented a break from what I know of the artist, it was the first section that featured his vache period immediately following World War II.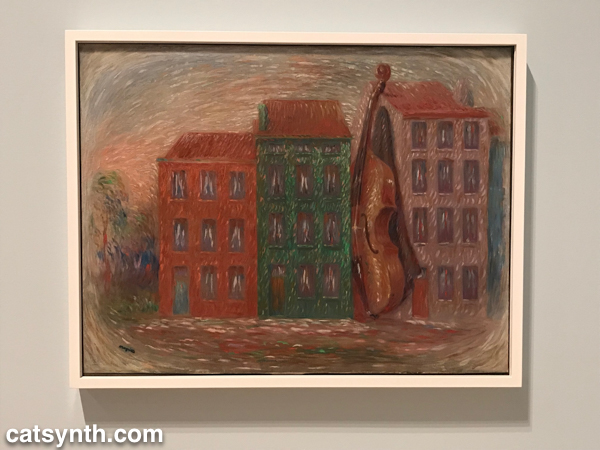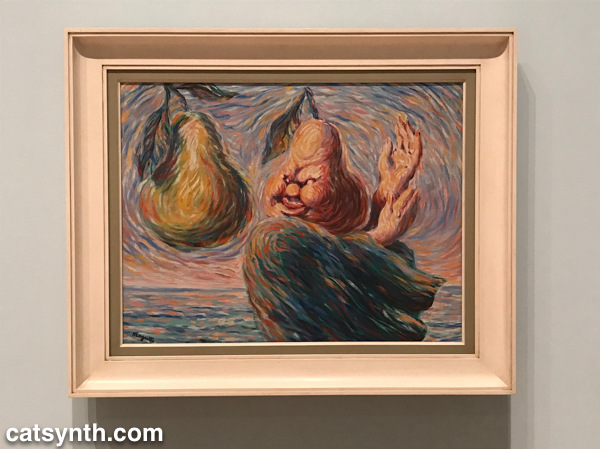 I would never have guessed these grotesque parodies of van-Gogh-style impressionism were his work if they were not presented and explained. At the same time, it is not surprising that the experience of the war (Magritte remained in his native Belgium during the Nazi occupation). It feels like his weakest and least memorable work, but one theory suggests that his retrograde style during this period helped avoid Nazi attention and persecution. We are certainly glad he returned to form in his later years.
One of late series, collectively called The Dominion of Light, brings together a nighttime city streetscape with a daytime sky.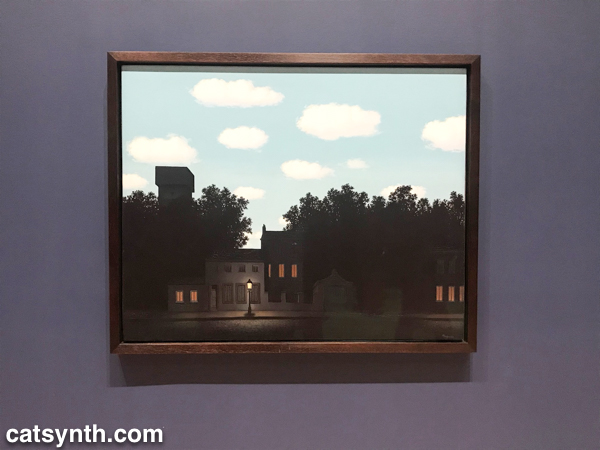 It takes a moment of adjustment to realize the confounding of night and day in the image, as our eyes are so used to assumptions about the passing of time and light. The series is at once playful, but also a bit melancholy, pointing to the later years of a life and life's work. Fortunately, there was one more chapter to come that was both more curious and more uplifting.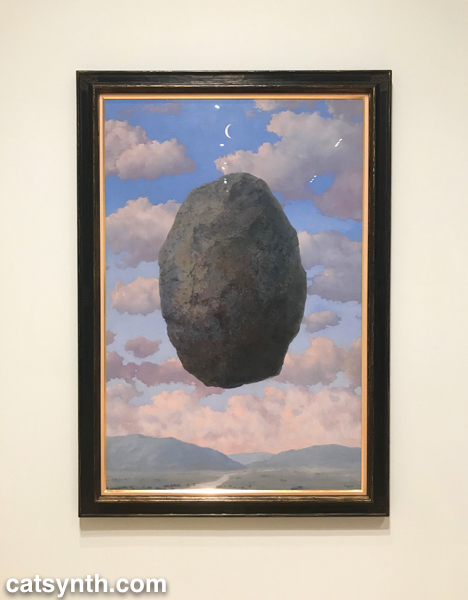 This bizarre series of boulders floating in space or sitting isolated on an apartment terrace is a return to form, but also an exploration of time and gravity and even more fundamental assumptions that we make in everyday life. Their lightness and starkness also make an interesting statement at the end of a career that spanned several decades and saw the massive changes of the 20th century. We should note that the bowler-hat portraits featured in this article were done during the same late period, and are stronger both as works in themselves and as a career-spanning statement.
The exhibit was overall a delight to experience. It was hung in a minimalist but also warm style without too much crowding or overwhelm, and it weaved a narrative even as I took in the works as individuals. It also marked a return a place of solace, the museum, after a long period of intensity and focus on other practices. I won't stay away as long again.
If you are in San Francisco over the next couple of weeks, I strongly recommend checking this exhibition out before it closes on October 28. For more information, please visit https://www.sfmoma.org/exhibition/rene-magritte/.