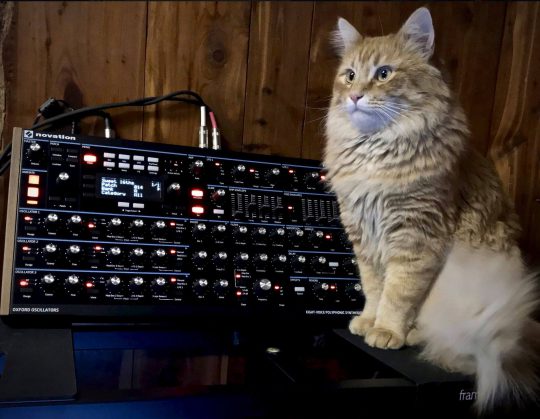 Mr. Maximillion returns, this time in a handsome portrait with a Novation Peak synthesizer.  By Charles Whiley via Facebook.  You can see Mr. Maximillion's previous appearance here.
We were wondering what exactly an "Oxford Oscillator" is, as Novation chose to display the term prominently on the panel.  From their website:
The implementation of the FPGA opens the doors to a new type of oscillator design for Peak — The New Oxford Oscillator — the design of which stems from the analogue imperative. Peak's raw waveforms are generated using an architecture designed and realised by Chris Huggett. It employs two waveform-generating techniques: Numerically Controlled Oscillators (NCOs) and wavetables.
The NCOs are used for the traditional subtractive-synthesis waveforms (e.g., saws, squares, pulses, and triangles).  The wavetable oscillators can morph between different source tables.   The architecture of the oscillators with traditional waveforms reminds me a bit of the Evolver from Dave Smith Instruments.  It is quite intriguing, including the fact that it is implemented on an FPGA.