Today we look back at a memorable show I played in a couple of weeks ago at Second Act here in San Francisco. Four acts each brought a different style of performance, instrumentation and experimentation to the stage.
First up was IMA, an electro-acoustic duo featuring Nava Dunkelman and Jeanie-Aprille Tang.  Their sound blends the noisier edges of percussion with a range of electronic sources, including loops, samples, and percussive hits that complement the acoustic sources. It was a loud and intense affair, but with quiet sections. Dunkelman also used her voice during the performance as another instrument.
Then it was time to take the stage. This was another set featuring Moog Theremini and analog modular synthesizer. The color theme for this performance was blue.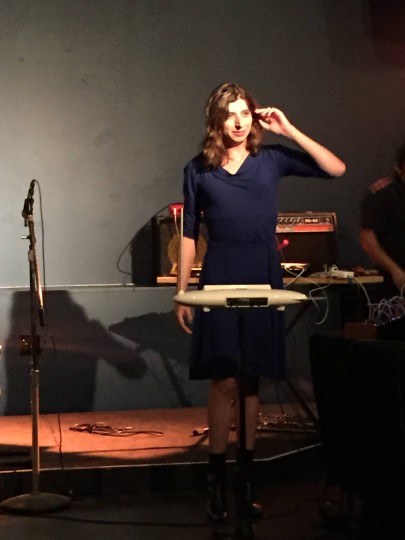 [Photo by Tom Djll]
As with many of these electronic improvisation sets, it starts off very structured and then moves in different directions based on the audience, room, instrument behavior and inspiration. You can see the full performance in this video.
Amanda Chaudhary at Second Act from CatSynth on Vimeo.
Overall I was quite pleased with the performance and the audience reaction.
Next up was Voicehandler, a duo of Danishta Rivero and Jacob Felix Heule.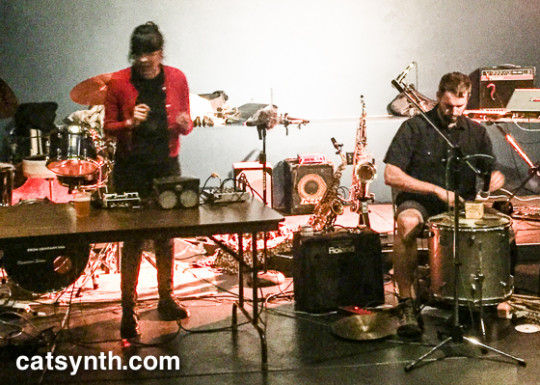 Their sound was a bit more subtle than the previous acts. It featured Rivero on extended vocal techniques with a water-based electro-acoustic instrument of her own invention, the Hydrophonium; and Heule on extended percussion techniques that were often subtle and precise before veering into more energetic territory.
The final act was a quartet led by Idris Ackamoor featuring Mark Heshima Williams on bass, Bob Marshall in drums, and David Molina on guitar and laptop with Ableton Live!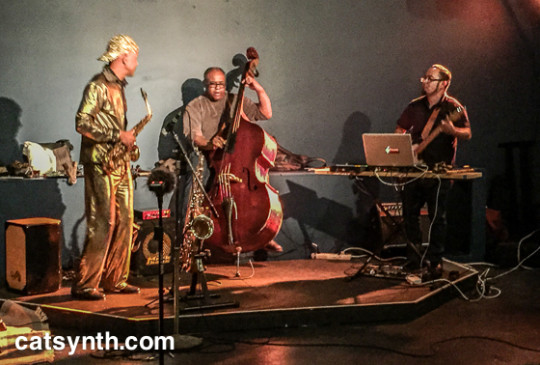 Several of the musicians and musical pieces were familiar from Ackamoor's renowned "afro-futurist" group The Pyramids. Indeed, the performance followed a similar structure with both a rhythmic entry and recessional. The rhythm section of Williams and Marshall was solid and perfect for some of the funkier grooves; and Ackamoor managed to move effortlessly between roles as horn-player and solo tap-dancing. It was interesting to hear David Molina and his guitar+electronic work, which I have heard before as a solo project, blended into this context.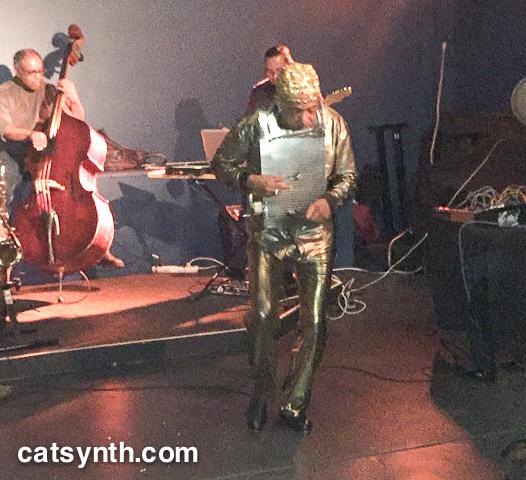 All together it was a good show from all four groups, a diverse range of music. The large audience seem drawn to all the acts even if they initially came following one. And it's great to see spaces like Second Act continuing to host shows like this in San Francisco. I hope to play there again sometime soon.