Today we look back at the show featuring Vacuum Tree Head and the Moe Staiano Ensemble at The UPTOWN in Oakland. It was also the subject of our most recent episode of CatSynth TV.
This was the most ambitious Vacuum Tree Head show to date, at least during the time I have been involved in the band. There were ten musicians involved: Jason Berry conducting, Steve Adams (of ROVA fame) on baritone saxophone, Jason Bellenkes on various woodwinds, Amanda Chaudhary on keyboard, Richard Corny on guitar, Michael de la Cuesta on guitar and synth, Justin Markovits on drums, Joshua Marshall on saxophones, Amy X Neuburg on voice and blippo box, and John Shiurba on bass.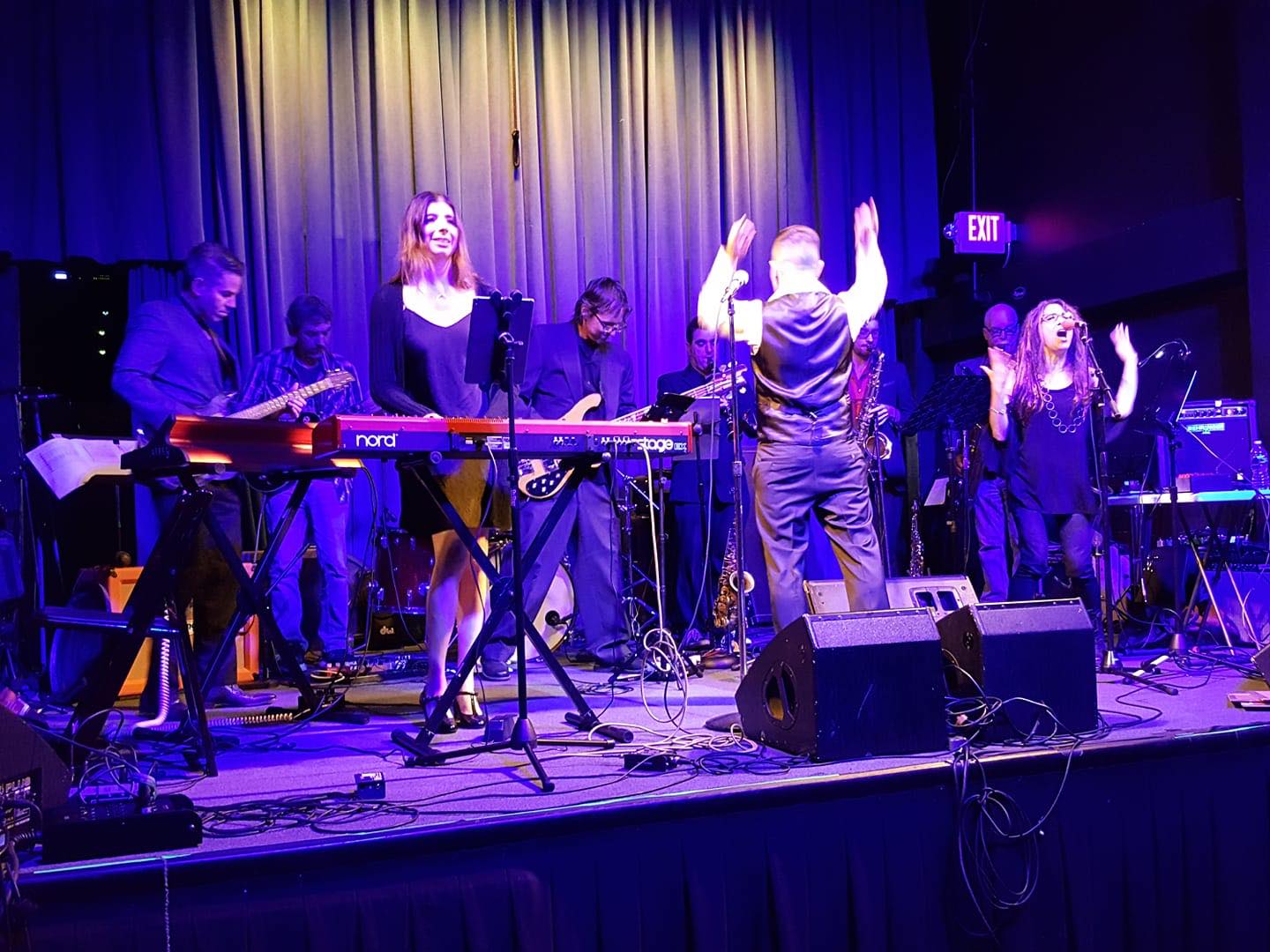 The band delivered an impressive and truly dynamic performance, going through a diverse mix of styles from our current repertoire. And that fact that the core of the lineup has stabilized means that the tunes are always getting tighter and more idiomatic, especially our "big" numbers Nubdug and EMS Deluxe – I always have a lot of fun in the latter with a big 1970s style electric-piano solo. But this set was more than just music – it continued the band's pattern of adding new spectacle at each show. This time, we had a juggler, Colin Hogan, and my friend and frequent collaborator Serena Toxicat held up signs for audience participation. The juggling was a unique moment, with Hogan tossing lighted beanbags and other objects as we played a new version of the tune Marlon Brando
Overall, I had a wonderful time playing, as I'm pretty sure the entire band did. And we got a great response from the audience at The UPTOWN. Next, it was time for the Moe Staiano Ensemble to take the stage.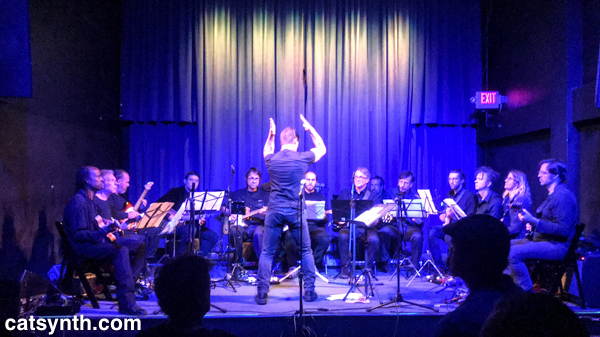 This was also an ambitious set, building on Moe's previous ideas but with an even larger ensemble of guitars: Jay Korber, William Bohrer, Melne Murphy, Damon Wood, Robin Walsh, Drew Wheeler, Bill Wolter, John Shiurba, Josh Pollock, David James, Marc Zollinger, and Karl Evangelista. That, my friends, is a lot of guitars! But they were also joined by Steve Lew on bass and Jeff Lievers on drums.
Moe's large scale composition followed a classical form of three movements: a loud opening fanfare, a calm and moody second movement, and amore dynamic finale. It featured many of the idiomatic elements I have come to know and appreciate in his compositions from my time playing in Surplus 1980, including the repetitions coming in and out of phase. During the first movement, there was a driving eight-note patterns with phasing that created an intense but pointillated wall of sound. The second movement, which contained slower notes and lots of open space, was exceptionally beautiful, and my favorite part of the performance. You can hear some of it in our video.
It was a wonderful night of music in Oakland, and I was happy to be a part of it both as a performance and an audience member. There was a fairly decent turnout, especially for a Tuesday. It's not every day you can get this cast of musicians on a stage at once, as both groups did, but I look forward to the next time they do.