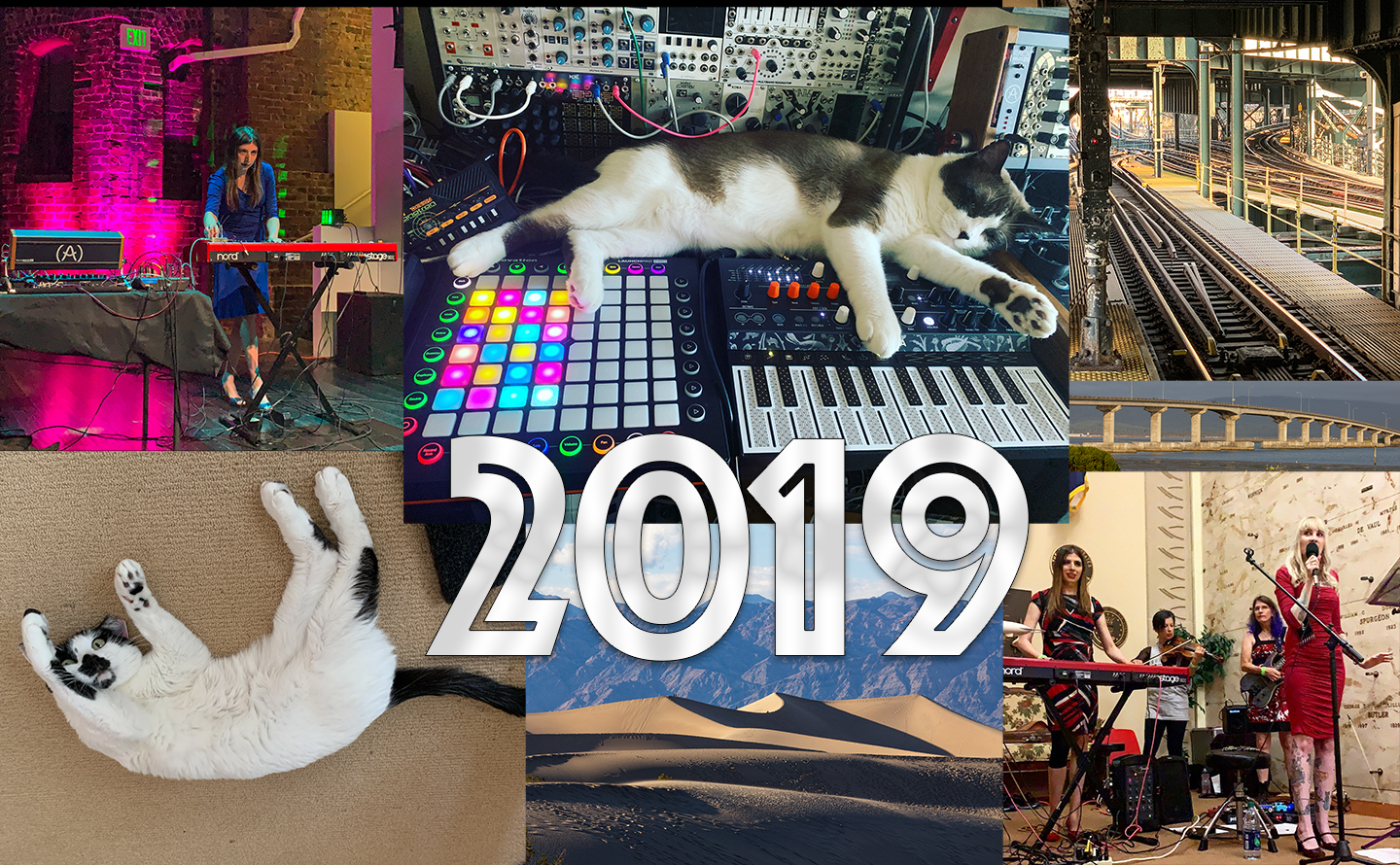 Our year-end collage is a long-standing tradition at CatSynth. And we had a lot of fun making this year's edition, so many wonderful images to choose from. One of my best solo performances to date took place at the Compton's Cafeteria series at the Center for New Music. Big Merp came to live with has at CatSynth HQ. And our adventures took us from the halls of NAMM to the bottom of Death Valley to the subways of New York.
As we mentioned at the end of last year, most of the energy has moved to CatSynth TV and our social media platforms (especially our Facebook page). The blog is mostly our core cat-and-synth pics these days, although I do enjoy sharing long-form articles now and then. And In 2020, I do plan to revive the "primary highways" series from eight years ago.
On the video side, things have been going very well. Here are the top videos for 2019:
By early autumn, I was also thinking about this year as a "tipping point." The transition from the blog to the video channel is the most obvious, but it also applies also on the personal side. The arrival of Big Merp was one of the big stories, and it's been a tough integration getting both cats to coexist, but things have been trending well in the past few months, with Sam Sam regaining her confidence and HQ becoming a more harmonious place again. Musically, I have moved in a direction that is perhaps closer to my roots in jazz, fusion, funk while maintaining the experimental electronic aspects. I have also moved to a point where studio work is how I spend most of my musical time, between the videos and other projects. Finally, I am getting older, as we all are, and that adds both perspective and a need to focus on health and wellbeing. In 2020, I may "do fewer things" than in the past, but I hope the things I choose to do make an impact both personally and beyond.
There is a lot to look forward to in the coming days: NAMM 2020 is around the corner, I have a full queue of demos to share, and I am laying the foundations for some major musical projects. And of course, we will continue to post cats and synths.